Dr. Rebecca Sellers Appears on WSAV to Discuss the Importance of Maintaining Your Preventative Appointments
Thursday, July 9, 2020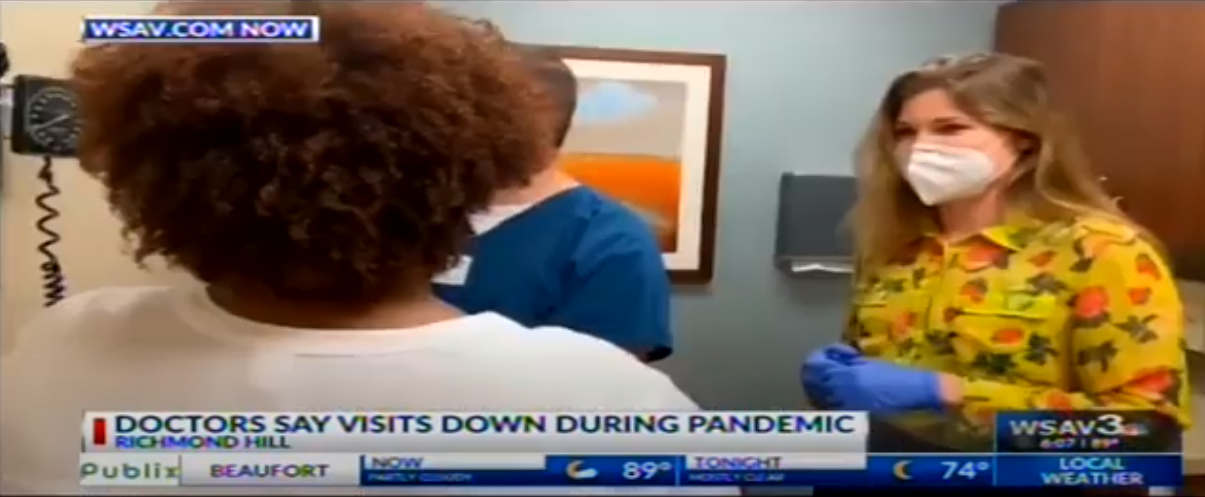 SouthCoast Health family physician, Dr. Rebecca Sellers addressed the importance of NOT postponing medical appointments during the current COVID-19 pandemic with WSAV. She explained waiting too long to get checked out can worsen certain chronic conditions.
"[Some] folks haven't been going in for their routine heart failure follow-ups or COPD management," Dr. Sellers reported. "The number-one reason for admission into hospitals is for COPD or heart failure exacerbations, so if we're able to make sure that those conditions are managed and not getting out of control, then it can prevent a hospitalization in a time when you're really trying to avoid the hospital."
Watch Dr. Sellers' appearance below to learn about the importance of check-ups with your physician. As a reminder, SouthCoast Health has COVID-19 guidelines to ensure the safety of patients, physicians, and staff. In addition, we offer virtual visits as an option for certain health care needs that do not require an in-person visit.
---
Whether you are looking for a primary care doctor or a pediatrician, or another medical specialist, SouthCoast Health has you covered with its wide range of world-class healthcare services, available throughout the Coastal Empire and Lowcountry. SouthCoast Health has 120 physicians and medical professionals in 18 locations in Savannah, Richmond Hill, Pooler, Rincon, Baxley, Hilton Head, Hinesville, and Statesboro. SouthCoast Health offers comprehensive medical services including: Family Medicine, Internal Medicine, Pediatrics, Allergy and Immunology, Cardiology, Endocrinology, Eye Care, Imaging, Infectious Diseases, Nephrology, Neurology, Physical Therapy, Podiatry, Sleep Medicine, Surgery, Clinical Trial Research Studies, Diabetic Self-Management Training Sessions, Dietetic Counseling, Laboratory Services, Massage Therapy, Optical Shop, Pharmacy, and Urgent Care.