Healthy Holiday Recipes from a Dietician
Monday, November 23, 2020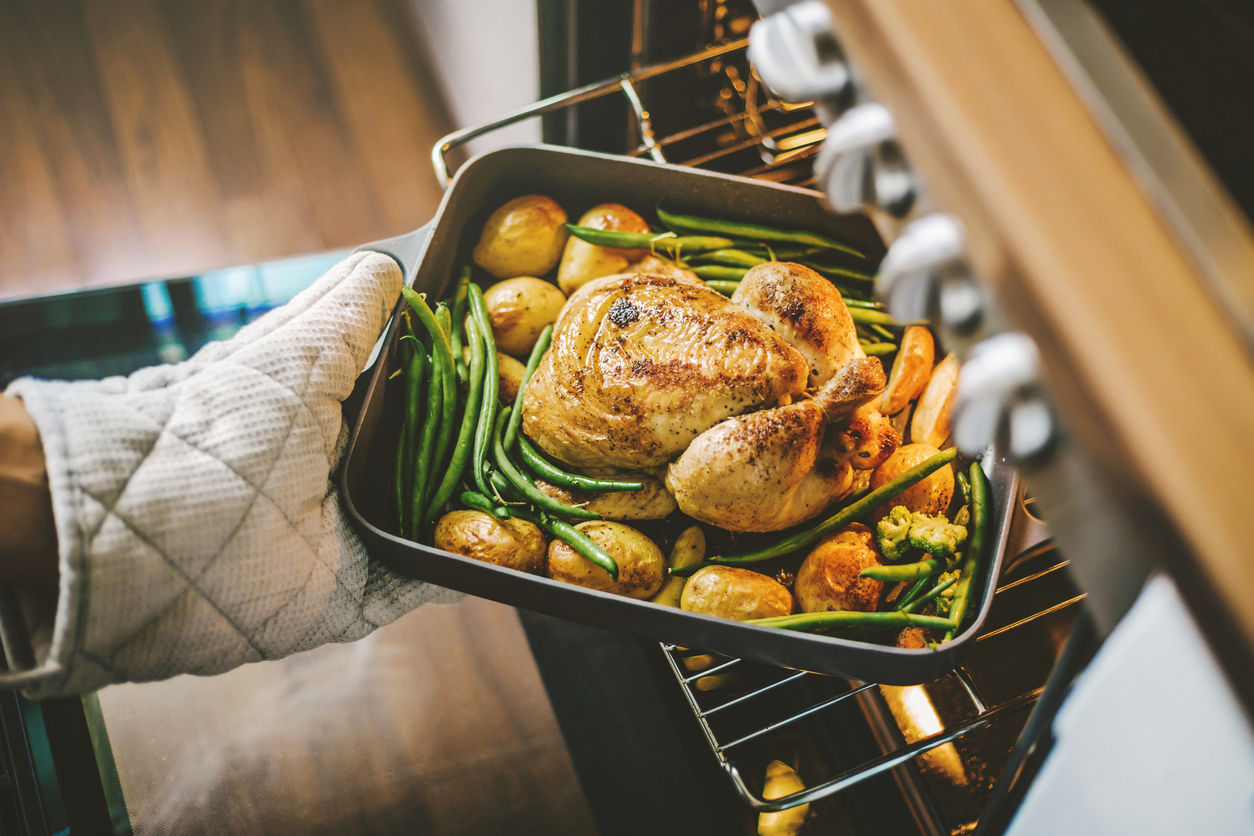 We want all of our patients to be their healthiest, happiest selves. This includes during the holidays when it's more commonplace to stuff our plates with fattening foods high in calories. That's exactly why SouthCoast Health Dietetic Counselor, Rebekah Laurance, provided some of her favorite healthy holiday recipes, just in time for the upcoming season!
Salad with Vinaigrette Dressing
Vinaigrette
2 tablespoons apple cider vinegar
1 teaspoon honey
2 tablespoons extra-virgin olive oil
Sea salt or salt substitute
The vinaigrette can be made up to 1 day ahead, covered and stored at room temperature. Mix or shake the vinaigrette before using.
In a medium bowl, whisk the vinegar and honey to blend. While whisking, slowly add the oil in a thin stream to blend completely. Season the vinaigrette to taste with salt.
Salad
2-3 Granny Smith apples
1/4 cup matchstick-size strips celery, save leaves for garnish
2 tablespoons fresh flat-leaf parsley leaves, you can use dried if necessary
1 ounce white cheddar cheese, shredded
2 tablespoons coarsely chopped almonds or other nuts
2 tablespoons of cranberries, dried
Cut the apples into thin slices, discarding the cores. You can peel them or leave them unpeeled, depending on your preference. In a large bowl, toss the apples, celery, and parsley with enough vinaigrette to lightly coat.

Garnish with the almonds, cranberries and celery leaves, and serve. Leave the nuts and the cranberries out until serving to help keep their texture.

20 minutes, serves 4 for around for less than 250 calories a serving
Healthier Collard Greens
Makes 10 servings
Ingredients
Cooking spray

3-4 oz smoked turkey leg or turkey ham

1 onion, diced

2 pounds collard greens washed and chopped

4 cups reduced-sodium/no salt added chicken broth or stock

2 tablespoons of minced garlic

2 teaspoons onion powder

¼ teaspoon red pepper flakes

Black pepper to taste

2 teaspoons, or to taste, white vinegar or apple cider vinegar
Directions
Spray a large soup pot with cooking spray. Heat over medium heat until hot.

Add turkey leg and cook for two to three minutes, turning occasionally.

Add onion and sauté until opaque, three to four minutes.

Add collards, broth, garlic, onion powder, pepper flakes, black pepper, and vinegar. Cover. Cook for two and a half hours, stirring occasionally.
Whipped Sweet Potatoes With Crumbly Pecan Topping
Calories: 200, Serves 8 (1/2-cup serving)
Ingredients
3-4 large sweet potatoes

1 1/2 cups plain yogurt, fat-free, Greek-style

1/2 tsp vanilla

1 tsp Kosher salt

Cooking spray (butter flavor)

Pecan Crumble Topping

1/2 cup rolled oats, whole

1/4 cup pecans, toasted, chopped

2 T butter, chilled, chopped

2 T dark-brown sugar

1/2 tsp cinnamon, ground

1/2 tsp cinnamon, ground

1/8 tsp nutmeg, ground
Directions
Preheat the oven to 350°F.

Wash sweet potatoes, pat dry, and place in the oven on the bottom rack.

Bake potatoes for approximately 45 to 60 minutes until a fork inserts easily. Roasting will allow the natural sugar in the potato to caramelize, bringing out the sweet flavor.

Remove potatoes from the oven. Cool and peel.

Prepare crumble topping by placing all ingredients in a bowl. Using a fork or your fingers, mash ingredients together until all are well incorporated and hold together into small, pea sized clusters. Set aside.

Place warm sweet potato flesh in a mixing bowl. Add yogurt, vanilla, and salt.

Whip using wire whip attachment on medium speed for 1 minute. Scrape sides down and turn to high and whip for about 30 seconds until all of the yogurt is incorporated in potatoes.

Coat a 1 ½ or 2 quart baking dish with pan spray.

Spread potato mixture into the baking dish. Sprinkle crumble evenly across the top of the potatoes. Lightly spray with cooking spray.

Place in a hot oven at 350˚F for about 40 to 50 minutes to heat potatoes. The topping should be lightly browned.

Remove pan from oven and serve.
Let us know if you make any of these recipes for your upcoming holiday plans. We hope everyone has a safe and fun season! If you have any more questions about healthy eating, click here to schedule an appointment with us or give us a call at 912.691.3600.
---
Whether you are looking for a primary care doctor or a pediatrician, or another medical specialist, SouthCoast Health has you covered with its wide range of world-class healthcare services, available throughout the Coastal Empire and Lowcountry. SouthCoast Health has 120 physicians and medical professionals in 18 locations in Savannah, Richmond Hill, Pooler, Rincon, Baxley, Hilton Head, Hinesville, and Statesboro. SouthCoast Health offers comprehensive medical services including: Family Medicine, Internal Medicine, Pediatrics, Allergy and Asthma, Cardiology, Endocrinology, Eye Care, Imaging, Infectious Diseases, Nephrology, Neurology, Physical Therapy, Podiatry, Sleep Medicine, Surgery, Clinical Trial Research Studies, Diabetic Self-Management Training Sessions, Dietetic Counseling, Laboratory Services, Massage Therapy, Optical Shop, Pharmacy, and Urgent Care.