Dr. Robert Remler, SouthCoast Health Primary Care Physician Retires After 35 Years of Practice
Friday, June 11, 2021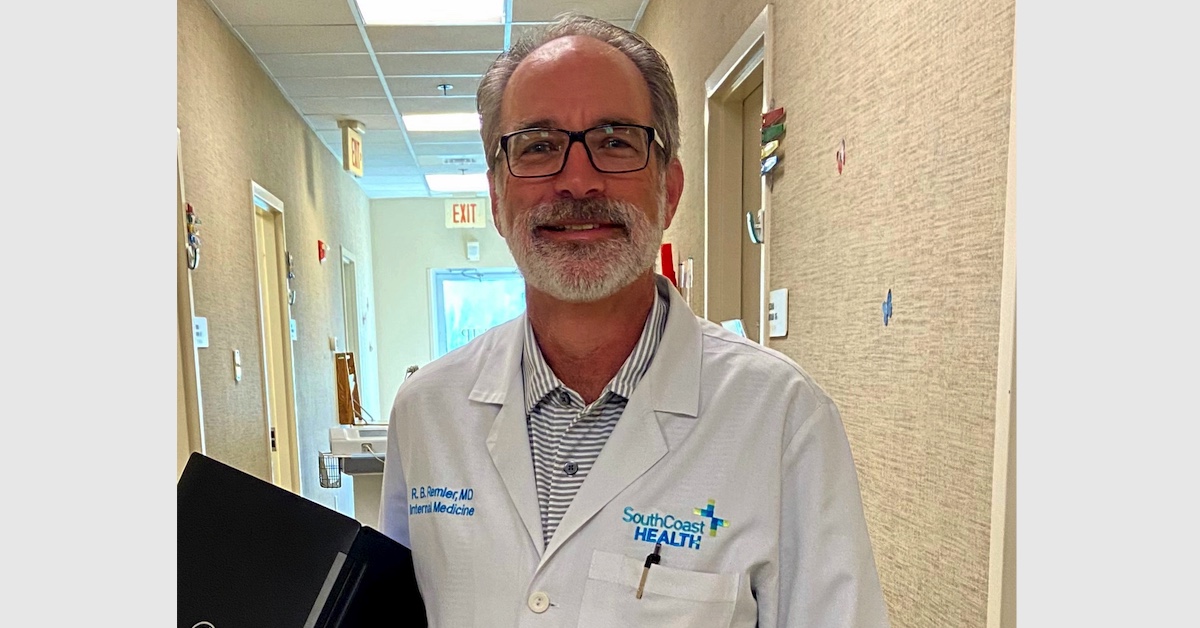 Dr. Robert Remler, an internal medicine specialist and primary care physician with SouthCoast Health, retired at the end of May after 35 years of practice. Having joined SouthCoast Health shortly after its inception in 1996, Dr. Remler spent a majority of his career with this regional leader in healthcare solutions.
"I'm certainly proud of my affiliation with SouthCoast, and I'm grateful to have been a part of this fantastic organization," Dr. Remler says.
A board-certified physician, Dr. Remler's career began after earning his Doctor of Medicine degree from the Medical College of Georgia in Augusta, Georgia. He completed his residency at the Vanderbilt University Medical Center in Nashville, Tennessee. Dr. Remler has been an active member of several medical societies such as the American College of Physicians, Georgia Medical Society, Medical Association of Georgia, and the American Society of Internal Medicine.
"SouthCoast Health has been fortunate to have had Dr. Remler on our roster for so long," says John Marrero, CEO of SouthCoast Health. "He's been a great example of tireless dedication to patients. We'll miss him greatly and wish him the best in retirement."
Dr. Remler says advocating for his patients, pinpointing diseases, and altering outcomes have been the most rewarding aspects of his career. This runs the gamut from catching a patient's lung cancer early to diagnosing someone's coronary artery disease in advance of a potential heart attack.
​"Having the opportunity to develop a long-term relationship with a patient across 20 or 30 years was something that attracted me to primary care," Dr. Remler says. "And being able to make a positive impact on their lives was always the ultimate reward.
Dr. Remler plans on spending retirement visiting with family, including caring for his elderly parents, and traveling. For the latter, he hopes to tour the country's national parks. However, he says he will continue to be a vocal supporter of SouthCoast Health's mission.
"SouthCoast is a leader in healthcare in our region, and I look forward to watching that continue," Dr. Remler explains. "Our management is bringing in bright young doctors to carry on the tradition, and I'm extremely positive for the future of the organization."
---
Whether you are looking for a primary care doctor or a pediatrician, or another medical specialist, SouthCoast Health has you covered with its wide range of world-class healthcare services, available throughout the Coastal Empire and Lowcountry. Founded in 1996, SouthCoast Health has 120 physicians and medical professionals in 17 locations in Savannah, Richmond Hill, Pooler, Rincon, Baxley, Bluffton, and Hinesville. SouthCoast Health offers comprehensive medical services including: Family Medicine, Internal Medicine, Pediatrics, Allergy and Immunity, Cardiology, Endocrinology, Eye Care, Imaging, Infectious Diseases, Nephrology, Neurology, Physical Therapy, Podiatry, Sleep Medicine, Surgery, Clinical Trial Research Studies, Diabetic Self-Management Training Sessions, Dietetic Counseling, High Risk Breast Cancer Clinic, Laboratory Services, Massage Therapy, Optical Shop, Pharmacy, and Urgent Care.