Bernice Watson's Breast Cancer Message: Never Miss Your Annual Check-Up
Friday, October 22, 2021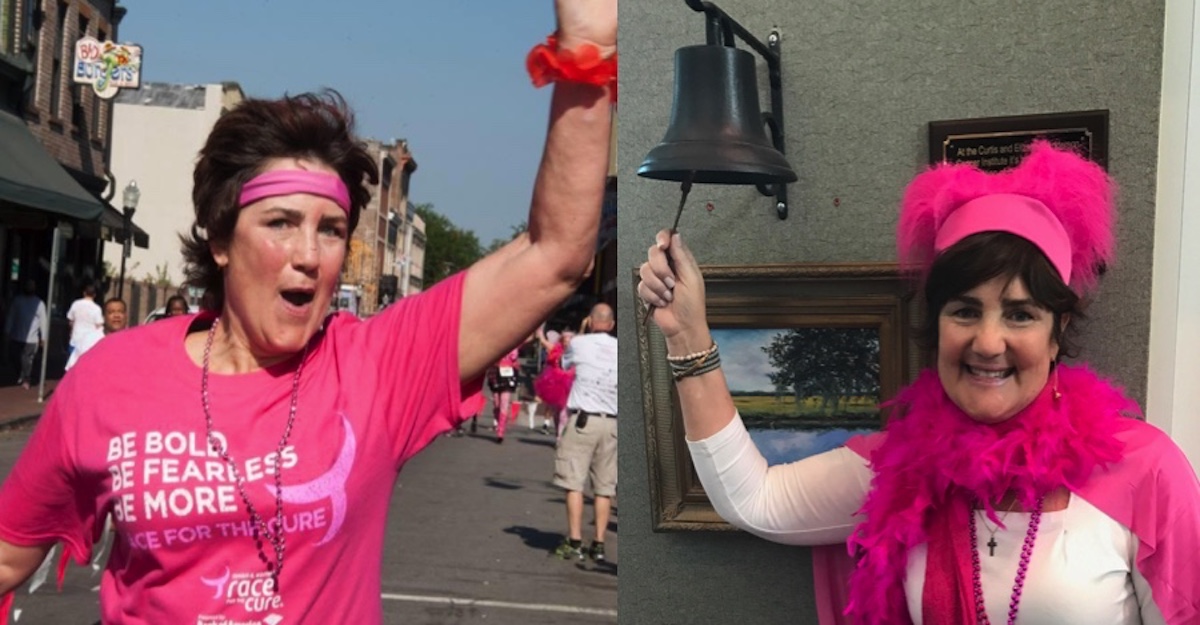 If Bernice Watson could share one message it would be: Never miss your annual check-up. In fact, this retired school teacher says being diligent about her screenings likely saved her life.
In late 2016, a mammogram revealed a suspicious lump and the subsequent biopsy confirmed the bad news. Watson had Stage 2B breast cancer.
While facing the diagnosis proved incredibly challenging, Watson recalls the high level of individualized care she received from SouthCoast Health. Her surgeon, Dr. Jeff Mandel, worked with and supported her through the decision to undergo a lumpectomy rather than a mastectomy. Her general practitioner, Dr. Adam Novack, and the rest of her team at SouthCoast Health provided a firm foundation as she underwent months of radiation treatment.
"It's pretty incredible how supportive the medical community has been, from the receptionists to all the technicians to the team of doctors," Watson says. "I have been given such personal care and feel confident the treatment they designed is what I need to be cured. SouthCoast Health has been an incredible support system."
The support outside of the doctor's office, she says, has also been key to her recovery. Being able to lean on friends and family, including her husband, SouthCoast Health physician Dr. Benjamin Watson, has proven invaluable.
"It's a club no one wants to be in, but there's such a big community in Savannah and within SouthCoast Health that provide support to help guide you along the way," she says. "Maintaining that community with your family, friends and medical team is the best way to stay positive, which is important."
Being part of the breast cancer community gives Watson the opportunity to give back and support those dealing with similar challenges. In addition to being part of a support network, Watson promotes breast cancer awareness by participating in an array of special events and fundraising opportunities. In 2017, she served as the face of Savannah's 2017 Susan G. Komen Race for the Cure, a 5K run that raises funds and awareness for the breast cancer movement.
"It's rewarding when you help people who are going through that journey," Watson explains. "And it strengthens your own positive outlook."
Today Watson maintains her positivity by staying on top of her health and connected to her SouthCoast Health medical team. "I trust them with my life," she says. "It's so important to keep your appointments, and I take every opportunity I can to remind other women to do the same. Early detection was the key to my good outcome." .
---
Whether you are looking for a primary care doctor or a pediatrician, or another medical specialist, SouthCoast Health has you covered with its wide range of world-class healthcare services, available throughout the Coastal Empire and Lowcountry. Founded in 1996, SouthCoast Health has 120 physicians and medical professionals in 17 locations in Savannah, Richmond Hill, Pooler, Rincon, Baxley, Hilton Head, Hinesville, and Statesboro. SouthCoast Health offers comprehensive medical services including: Family Medicine, Internal Medicine, Pediatrics, Allergy and Asthma, Cardiology, Endocrinology, Eye Care, Imaging, Infectious Diseases, Nephrology, Neurology, Physical Therapy, Podiatry, Sleep Medicine, Surgery, Clinical Trial Research Studies, Diabetic Self-Management Training Sessions, Dietetic Counseling, Laboratory Services, Massage Therapy, Optical Shop, Pharmacy, and Urgent Care.