Don't Let the Pandemic Stop Your Mammogram This Year
Wednesday, October 20, 2021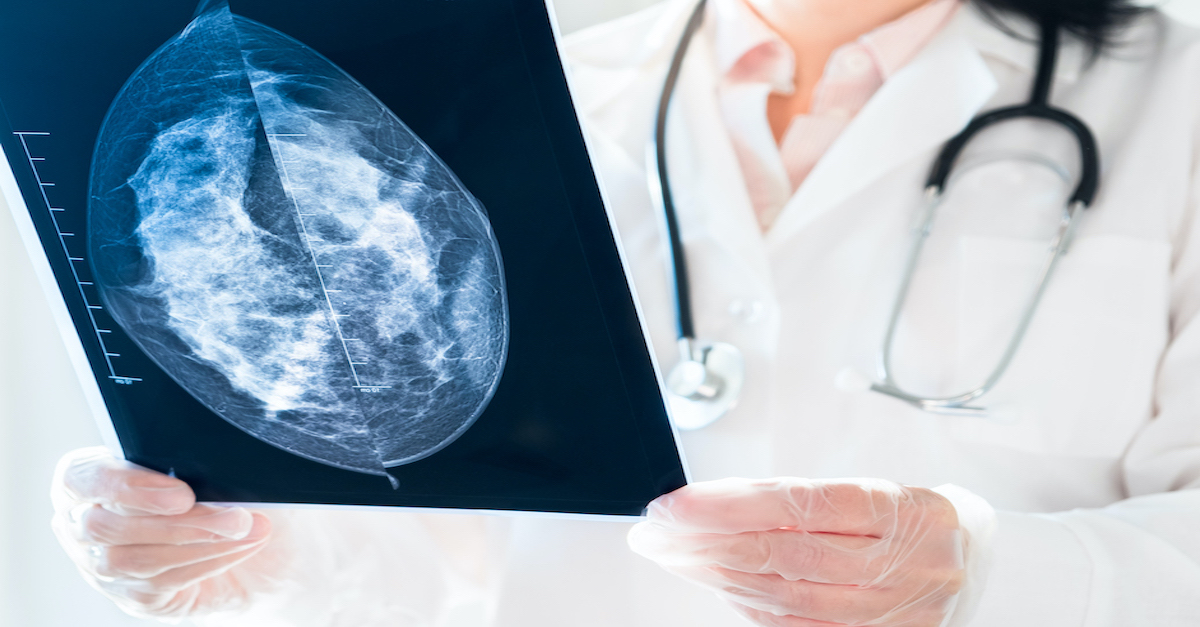 At the beginning of the COVID-19 pandemic, everyone's life was put on pause. As a result, you may have held off on scheduling your mammogram to wait for things to settle down.
Here at SouthCoast Health, we encourage you to not let anything prevent your cancer screening — this year or at any time.
We understand the anxieties that might arise around mammograms even in normal circumstances, but we prioritize your health by maintaining COVID-safe procedures, limiting the number of visitors in our offices, and following CDC guidelines at all times. We pride ourselves in providing quality cancer screenings, and making this process easy for you, whether this is your first mammogram or one of many.
During Breast Cancer Awareness Month, we're focused on highlighting the importance of mammograms, and making them more workable for you.
What is a Mammogram?
A mammogram screens a patient for potential signs of breast cancer. It is a series of X-ray pictures of the breast, showing doctors the overall health of your breast tissue. Even if you have no previous symptoms of breast cancer, a screening test can provide a baseline of health, and detect any early indications of breast cancer or other abnormalities.
A mammogram captures black-and-white images of the breasts by compressing the breast tissue between two imaging surfaces. This can be uncomfortable, but the discomfort only lasts for a short time before the image is captured and the radiologist can examine the results.
Why Have a Mammogram Annually?
Early detection of cancer means early treatment, which will ultimately mean. In an interview with the New York Times Dr. Laura J. Esserman, a breast surgeon from the University of California asserted that "cancer screening reduces the risk of death from breast cancer by 20 percent to 30 percent."
Mammograms are the best way to detect lumps and abnormalities long before they can be felt by a patient or doctor. While CDC guidelines for screening have adjusted in response to ongoing research, the American Cancer Society still advises women between the ages of 45 and 49 receive mammograms annually. Normal test results are always a relief, but they do not promise normal results in the future, which is why annual screening is advised.
Our professionals may suggest screening sooner if you have a family history of breast cancer. "But on average," says SouthCoast Health family medicine physician, Dr. Regina B. Dandy, "we recommend that women approaching their 40th birthdays begin talking to their doctor about screening, and making annual appointments."
How to Prepare for a Mammogram
Prepare for your mammogram with a few easy steps:
Make sure not to schedule it for the week before, during, or after your period, as your breasts may be more tender then.
Avoid deodorant or antiperspirant the day of, as it may interfere with imaging.
Be advised that you will be asked to remove all clothing from the waist up, so you may want to avoid a dress that day. We suggest wearing comfortable bottoms, such as joggers or a skirt, and a shirt and bra that is easy to remove.
Make plans with a friend after your appointment to celebrate accomplishing this important annual task (and get some emotional support if you're concerned about results).
Schedule an Appointment with SouthCoast Health
It is more important than ever to have health as your top priority during the pandemic. Schedule your mammogram with our highly integrated system of care. We are here to make it as easy and comfortable as possible! Visit our website today, or call us at 912-691-3600.
---
Whether you are looking for a primary care doctor or a pediatrician, or another medical specialist, SouthCoast Health has you covered with its wide range of world-class healthcare services, available throughout the Coastal Empire and Lowcountry. Founded in 1996, SouthCoast Health has 120 physicians and medical professionals in 17 locations in Savannah, Richmond Hill, Pooler, Rincon, Baxley, Bluffton, Hilton Head, Hinesville, and Statesboro. SouthCoast Health offers comprehensive medical services including: Family Medicine, Internal Medicine, Pediatrics, Allergy and Immunology, Cardiology, Endocrinology, Eye Care, Imaging, Infectious Diseases, Nephrology, Neurology, Physical Therapy, Podiatry, Sleep Medicine, Surgery, Clinical Trial Research Studies, Diabetic Self-Management Training Sessions, Dietetic Counseling, High Risk Breast Cancer Clinic, Laboratory Services, Massage Therapy, Optical Shop, Pharmacy, and Urgent Care.