SouthCoast Health Nutritionist, Rebekah Laurance Appears on WTOC's Morning Break to Discuss Keeping Your New Year's Resolutions for a Healthier New Year
Tuesday, January 4, 2022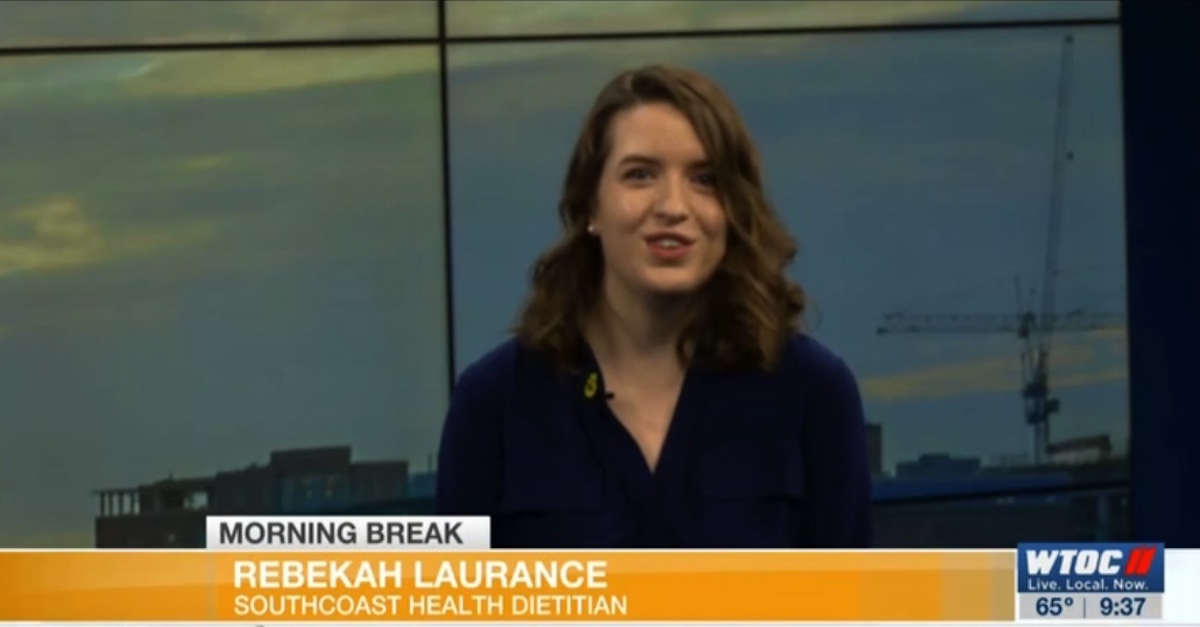 SouthCoast Health nutritionist, Rebekah Laurence shared advice on keeping "eating healthier" and "living healthier" resolutions in the new year with WTOC's Morning Break. She explained after all the indulgences from holiday celebrations, we often make weight loss our new year's resolution. However, many give up on this plan from lack of planning, time, and discipline.
Laurence emphasized to the viewers not to focus on perfection, but to break down your goals into smaller milestones to help move in a positive direction. Then, you can add more goals as you start to accomplish your initial ones. She also discussed the various dieting plans and how consistently sticking to one you feel you can follow the best will give you positive results.
Watch the full interview here.
---
Whether you are looking for a primary care doctor or a pediatrician, or another medical specialist, SouthCoast Health has you covered with its wide range of world-class healthcare services, available throughout the Coastal Empire and Lowcountry. SouthCoast Health has 120 physicians and medical professionals in 18 locations in Savannah, Richmond Hill, Pooler, Rincon, Baxley, Bluffton, Hilton Head, Hinesville, and Statesboro. SouthCoast Health offers comprehensive medical services including: Family Medicine, Internal Medicine, Pediatrics, Allergy and Immunology, Cardiology, Endocrinology, Eye Care, Imaging, Infectious Diseases, Nephrology, Neurology, Physical Therapy, Podiatry, Sleep Medicine, Surgery, Clinical Trial Research Studies, Diabetic Self-Management Training Sessions, Dietetic Counseling, High Risk Breast Cancer Clinic, Laboratory Services, Massage Therapy, Optical Shop, Pharmacy, and Urgent Care.