The Importance of Eye Exams for Detecting Glaucoma
Tuesday, January 18, 2022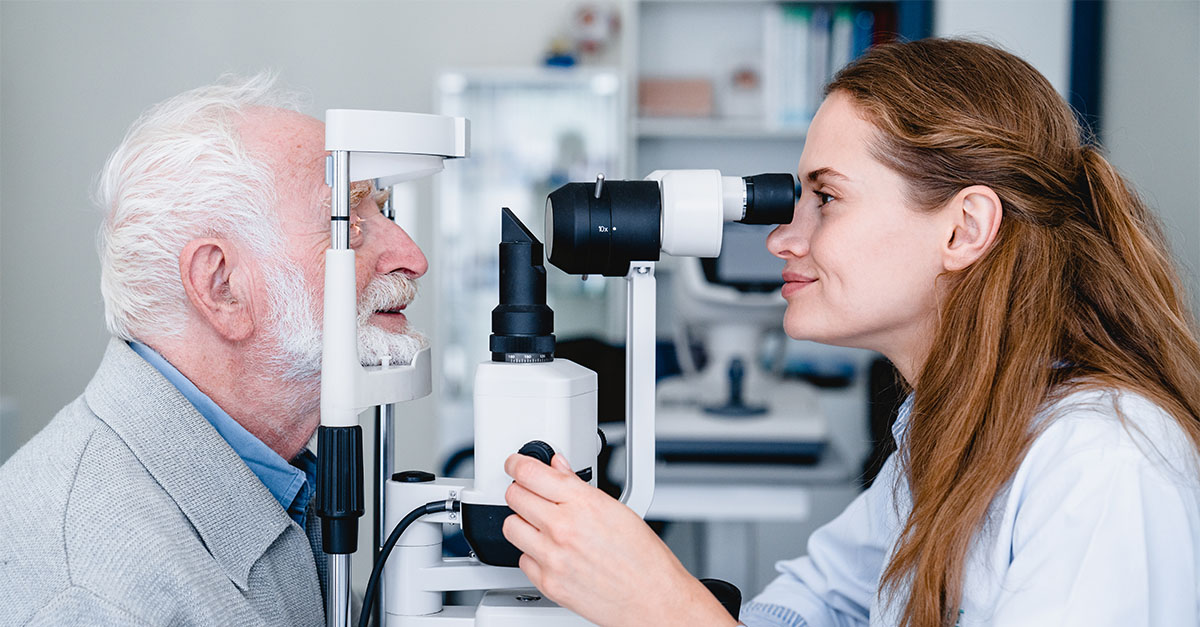 Routine eye exams include vision checks, which allow eye doctors to provide you with updated glasses or contact lens prescriptions, to ensure you're seeing well. But outside of checking for general visual acuity, these appointments can also detect potentially serious eye problems in their earliest stages — when they're most treatable. This includes glaucoma, a leading cause of blindness.
What Is Glaucoma?
Glaucoma is the umbrella term used for a group of eye conditions which can cause vision loss due to changes in the optic nerve," explains SouthCoast Health Optometrist Edward Sammons. While glaucoma is a primary cause of blindness in adults over the age of 60, complete blindness can often be prevented with early intervention.
The conditions that lead to glaucoma are often caused by increased buildup of fluid, which puts excess pressure on the eye. This "aqueous humor" fluid typically drains naturally from the eye through the tissue where the iris and cornea meet. But when there's excess fluid buildup, or the drainage system is somehow impeded, pressure on the eye increases. Gradually, this leads to deterioration of the optic nerve and blind spots in the field of vision.
According to the Glaucoma Research Foundation, all adults should receive a baseline glaucoma screening by the age of 40. Thereafter, your doctor will make recommendations for screening frequency based on your risk factors, which can include diabetes, high blood pressure, or family members who have had glaucoma.
How Do Eye Exams Detect Glaucoma?
Glaucoma is often a slow-developing condition, so you may not notice symptoms right away. And many forms of glaucoma have no warning signs at all. But subtle changes to the eye can be detected by eye care professionals through an in-office screening known as a dilated eye exam. During this procedure, your doctor will administer eye drops to dilate the pupils. This provides a better view of the eye's internal structure, including the retina and optic nerve, which makes it easier to detect glaucoma — potentially before symptoms even develop.
Determining eye pressure alone isn't enough to diagnose glaucoma, since what's normal for one person may be different for another. For this reason, only a comprehensive vision exam with a dilated eye exam can accurately detect glaucoma.
How Is Glaucoma Treated?
Unfortunately, it isn't currently possible to reverse any damage that glaucoma has already caused. But catching the condition early can help you delay or prevent further vision loss. To treat glaucoma, your doctor will focus on decreasing pressure in the eye, with methods including:
Prescription eye drops
Oral medications
Surgical interventions, such as laser therapy
Lifestyle modifications, including optimal intake of vitamins, reduced caffeine intake, and regular exercise
Hopeful glaucoma research continues, including an October 2021 study of possible new therapies. "Our hope is that this study leads to the first targeted therapy that effectively promotes (aqueous humor) fluid outflow from the front of an eye, reversing the underlying biologic defect in patients with glaucoma," says Dr. Susan Quaggin, chief of nephrology and hypertension in the Department of Medicine at Northwestern University Feinberg School of Medicine.
To monitor your own eye health (and whole well-being), schedule an appointment with SouthCoast Health. We offer eye care as part of our specialty services, and will be happy to provide counsel on the care package that best suits your needs when you call (912) 527-5200.
---
Whether you are looking for a primary care doctor or a pediatrician, or another medical specialist, SouthCoast Health has you covered with its wide range of world-class healthcare services, available throughout the Coastal Empire and Lowcountry. SouthCoast Health has 120 physicians and medical professionals in 18 locations in Savannah, Richmond Hill, Pooler, Rincon, Baxley, Bluffton, Hilton Head, Hinesville, and Statesboro. SouthCoast Health offers comprehensive medical services including: Family Medicine, Internal Medicine, Pediatrics, Allergy and Immunology, Cardiology, Endocrinology, Eye Care, Imaging, Infectious Diseases, Nephrology, Neurology, Physical Therapy, Podiatry, Sleep Medicine, Surgery, Clinical Trial Research Studies, Diabetic Self-Management Training Sessions, Dietetic Counseling, High Risk Breast Cancer Clinic, Laboratory Services, Massage Therapy, Optical Shop, Pharmacy, and Urgent Care.