SouthCoast Health Nephrologist, Dr. Nizar Eskandar Speaks to WSAV on a Patient Who Needs a Kidney Donor and the Importance of Kidney Health
Wednesday, March 2, 2022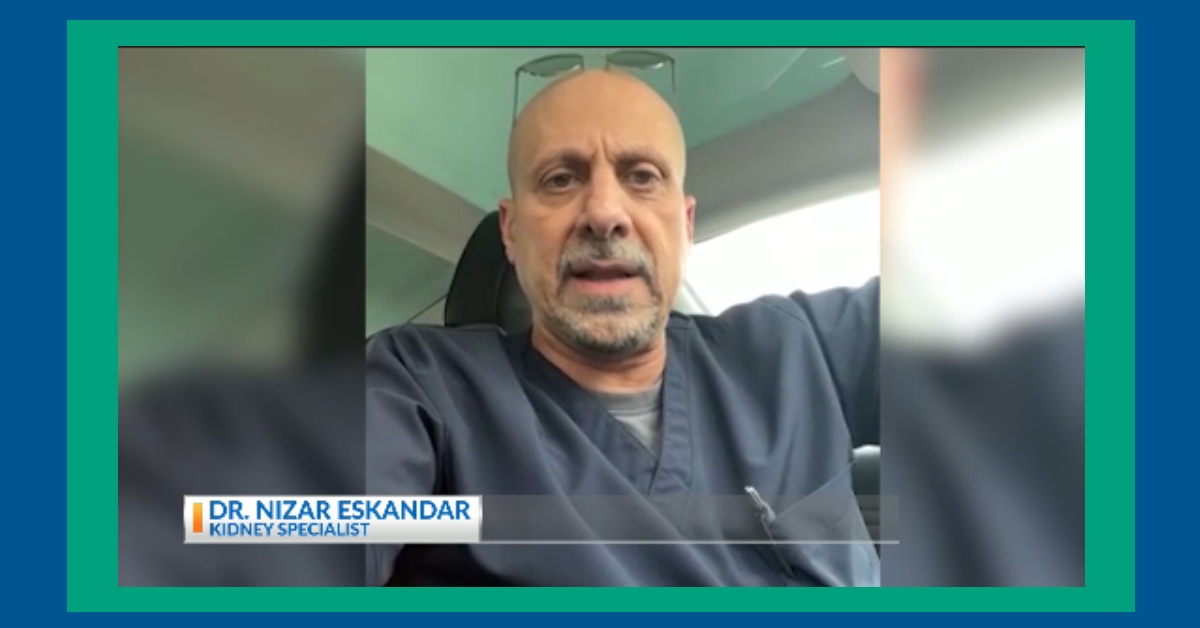 In honor of National Kidney Month, SouthCoast Health nephrologist, Nizar Eskandar, MD, FACP, CMCM spoke to WSAV about his patient in need of a kidney donor. Tatyana Yani-Tyrell suffers from polycystic kidney disease, a genetic disorder that attacks the kidneys. Her condition worsened after she had COVID-19. Dr. Eskandar explained that during the COVID-19 pandemic, the rate and the availability of kidneys for transplantation decreased.
Dr. Eskandar also shared with the audience that this month is an important reminder for everyone to check-in on their kidney health, especially because most kidney disorders are largely asymptomatic early on.
Watch the interview or read the full story here to learn more about Dr. Eskandar's patient, Tatyana Yani-Tyrell and the importance of kidney health.
---
Whether you are looking for a primary care doctor or a pediatrician, or another medical specialist, SouthCoast Health has you covered with its wide range of world-class healthcare services, available throughout the Coastal Empire and Lowcountry. SouthCoast Health has 120 physicians and medical professionals in 18 locations in Savannah, Richmond Hill, Pooler, Rincon, Baxley, Bluffton, Hilton Head, Hinesville, and Statesboro. SouthCoast Health offers comprehensive medical services including: Family Medicine, Internal Medicine, Pediatrics, Allergy and Immunology, Cardiology, Endocrinology, Eye Care, Imaging, Infectious Diseases, Nephrology, Neurology, Physical Therapy, Podiatry, Sleep Medicine, Surgery, Clinical Trial Research Studies, Diabetic Self-Management Training Sessions, Dietetic Counseling, High Risk Breast Cancer Clinic, Laboratory Services, Massage Therapy, Optical Shop, Pharmacy, and Urgent Care.