SouthCoast Health Nutritionist, Rebekah Laurance Featured on WTOC's Morning Break for National Nutrition Month
Tuesday, March 22, 2022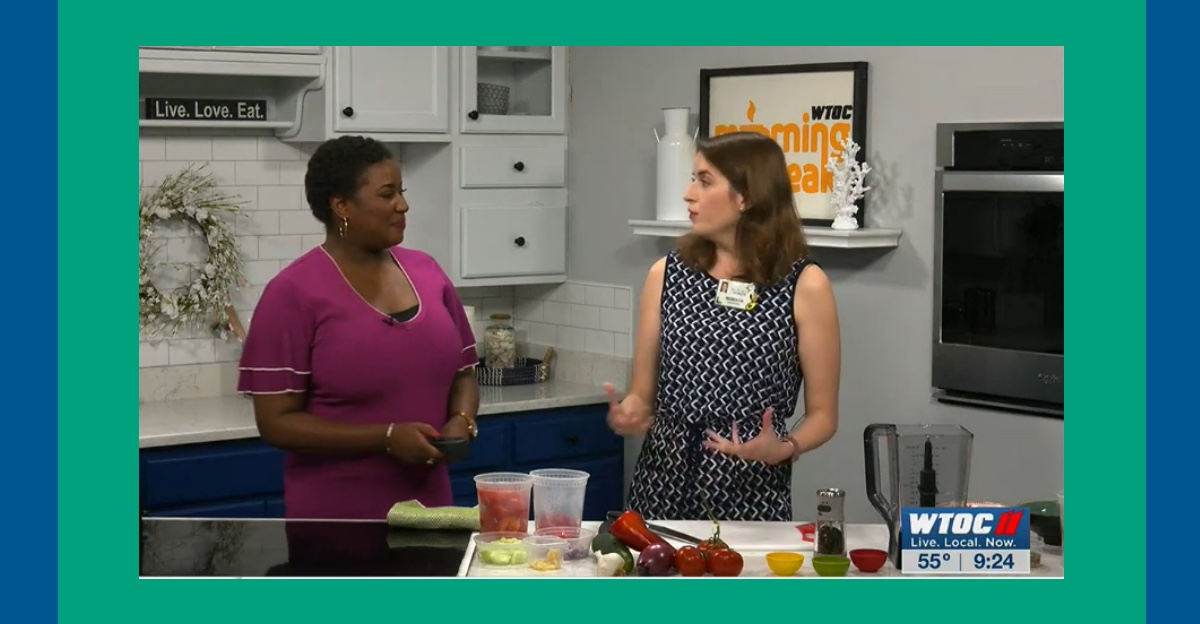 SouthCoast Health nutritionist, Rebekah Laurence was featured on WTOC's Morning Break to share tips for eating healthy in celebration of March's National Nutrition Month. This important awareness month reminds us of the importance of a balanced diet and exercise. This year's theme is "Celebrate a World of Flavors," which encourages us to try flavors from cultures around the world. It is a tasty way to nourish ourselves and appreciate diversity in meals from cultures across the globe.
Laurence also joined the Morning Break team in their kitchen to provide an on-air cooking demonstration for gazpacho. This soup is made of raw, blended vegetables in Spanish and Portuguese homes. It is served cold, which would be a great dish to try in our region, especially during the warmer months of the year.
Watch the full interview and gazpacho cooking demonstration here.
The recipe details for the gazpacho are listed below:
2 pounds of Tomatoes, seeds removed
½ red onion, roughly chopped
1 cucumber, peeled and seeded, roughly chopped
1 bell pepper, seeded, roughly chopped
2-3 cloves of garlic, chopped
2 Tbsp Wine Vinegar
3 Tbsp Olive Oil
Salt and Pepper to taste Place all items in a blender.
Blend for 1 minute or until desired consistency. Chill in the refrigerator for 3-4 hours before serving. Serve in a bowl with additional toppings as desired. Optional toppings of choice: cheese, avocado, croutons, lump crab, grilled shrimp, herbs, pumpkin seeds
---
Whether you are looking for a primary care doctor or a pediatrician, or another medical specialist, SouthCoast Health has you covered with its wide range of world-class healthcare services, available throughout the Coastal Empire and Lowcountry. SouthCoast Health has 120 physicians and medical professionals in 18 locations in Savannah, Richmond Hill, Pooler, Rincon, Baxley, Hilton Head, Hinesville, and Statesboro. SouthCoast Health offers comprehensive medical services including: Family Medicine, Internal Medicine, Pediatrics, Allergy and Asthma, Cardiology, Endocrinology, Eye Care, Imaging, Infectious Diseases, Nephrology, Neurology, Physical Therapy, Podiatry, Sleep Medicine, Surgery, Clinical Trial Research Studies, Diabetic Self-Management Training Sessions, Dietetic Counseling, Laboratory Services, Massage Therapy, Optical Shop, Pharmacy, and Urgent Care.