Your Total Wellness Team Just Got Stronger.
Thursday, September 8, 2022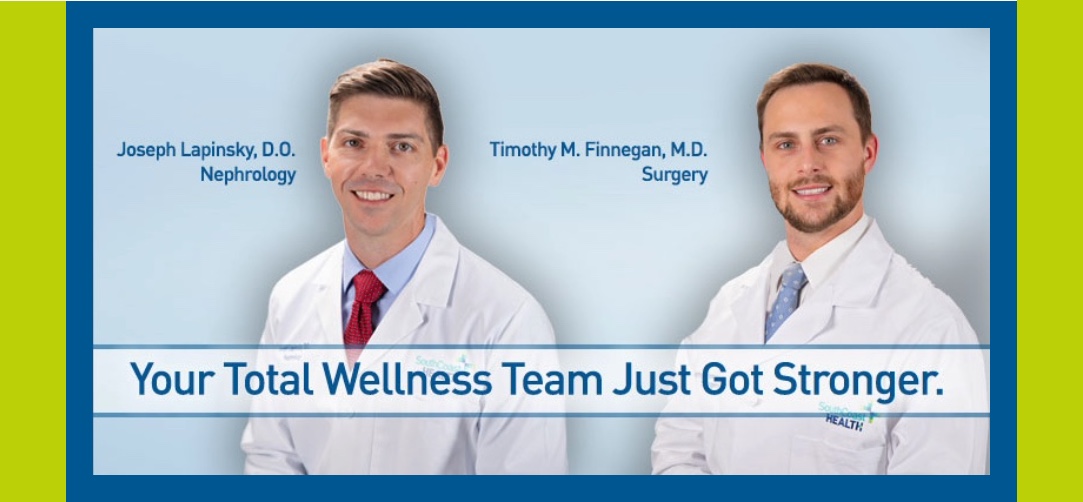 Patients looking for specialists in Nephrology or Surgery can choose with confidence. SouthCoast Health, a medical leader across the Coastal Empire and Lowcountry, is excited to welcome Dr. Joseph Lapinsky and Dr. Timothy Finnegan to its ever-growing roster of board-certified medical experts in our Nephrology and Surgery departments.

Dr. Lapinsky has joined the SouthCoast Health Nephrology team. He graduated from Pennsylvania State University with a bachelor's degree in biochemistry and molecular biology, and a minor in microbiology. Upon graduating from Lake Erie College of Osteopathic Medicine, he completed a residency in internal medicine. He received a fellowship in nephrology at Wake Forest Baptist Medical Center, where he could pursue both of his passions: science and math. Learn more about Dr. Lapinsky. He is welcoming new patients. Call 912.527.5225 to schedule an appointment.

Dr. Finnegan has joined the SouthCoast Health Surgery team. Dr. Finnegan attended Charles E. Schmidt College of Medicine at Florida Atlantic University where he graduated as a doctor of medicine. After an internship in general surgery preliminary, he attended Memorial University Medical Center where he became a general surgery resident. He then completed a fellowship in advanced bariatric and minimally invasive surgery at the University of Alabama in Birmingham. Throughout his educational career, he received numerous awards and honors for his dedication. Learn more about Dr. Finnegan here. Call 912.354.6303 to schedule an appointment.

With the addition of both Dr. Lapinsky and Dr. Finnegan, SouthCoast Health has more than 120 healthcare providers on staff, allowing us to offer a breadth of care under one banner and an immense amount of convenience for new and current patients.
---
Whether you are looking for a primary care doctor or a pediatrician, or another medical specialist, SouthCoast Health has you covered with its wide range of world-class healthcare services, available throughout the Coastal Empire and Lowcountry. SouthCoast Health has 120 physicians and medical professionals in 18 locations in Savannah, Richmond Hill, Pooler, Rincon, Baxley, Hilton Head, Hinesville, and Statesboro. SouthCoast Health offers comprehensive medical services including: Family Medicine, Internal Medicine, Pediatrics, Allergy and Immunology, Cardiology, Endocrinology, Eye Care, Imaging, Infectious Diseases, Nephrology, Neurology, Physical Therapy, Podiatry, Sleep Medicine, Surgery, Clinical Trial Research Studies, Diabetic Self-Management Training Sessions, Dietetic Counseling, Laboratory Services, Massage Therapy, Optical Shop, Pharmacy, and Urgent Care.