SouthCoast Health Nephrologist, Dr. Joseph Lapinsky​ ​Discusses Kidney Stone Awareness Topics on WTOC's Morning Break
Wednesday, September 14, 2022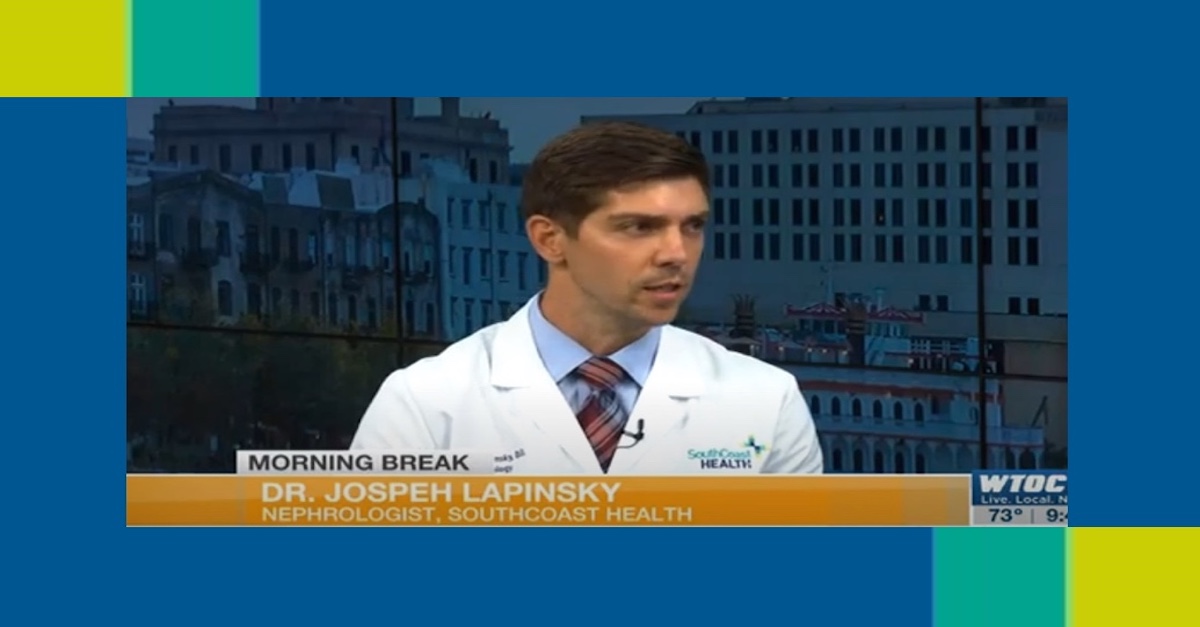 Recently, SouthCoast Health nephrologist Dr. Joseph Lapinsky appeared on WTOC's Morning Break to address why kidney stones are a recurring issue that sends approximately a half a million people to the ER every year.

Many of these emergency room visits for kidney stones occur during summer because dehydration is a key factor that leads to this condition. However, kidney stones can be developed any time of the year. This is why Dr. Lapinsky shared tips on how to avoid kidney stones, their symptoms if you think that you might have developed a kidney stone, and how to address this issue with a medical provider.

Watch Dr. Lapinsky's appearance to learn more about kidney stones.
---
Whether you are looking for a primary care doctor or a pediatrician, or another medical specialist, SouthCoast Health has you covered with its wide range of world-class healthcare services, available throughout the Coastal Empire and Lowcountry. SouthCoast Health has 120 physicians and medical professionals in 18 locations in Savannah, Richmond Hill, Pooler, Rincon, Baxley, Hilton Head, Hinesville, and Statesboro. SouthCoast Health offers comprehensive medical services including: Family Medicine, Internal Medicine, Pediatrics, Allergy and Asthma, Cardiology, Endocrinology, Eye Care, Imaging, Infectious Diseases, Nephrology, Neurology, Physical Therapy, Podiatry, Sleep Medicine, Surgery, Clinical Trial Research Studies, Diabetic Self-Management Training Sessions, Dietetic Counseling, Laboratory Services, Massage Therapy, Optical Shop, Pharmacy, and Urgent Care.