4 Ways to Get Active With the Family This Holiday Season
Monday, November 21, 2016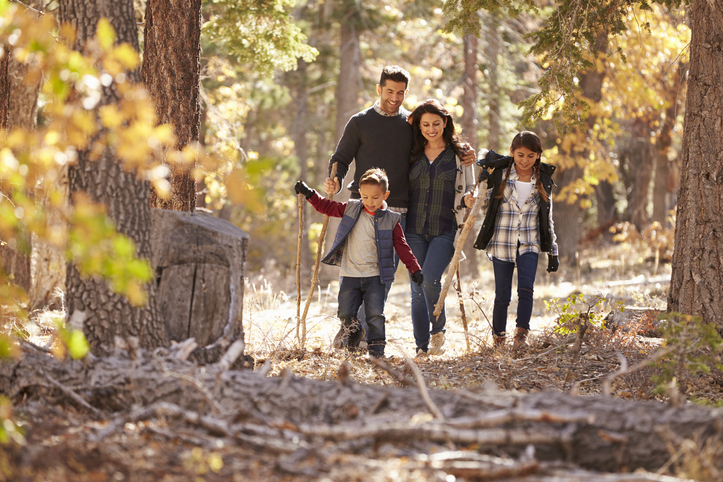 The holidays are famous for family, football and a few extra pounds. This holiday season, consider shaking things up and organizing some post-meal activities to get your family out of the house and active while still spending quality time together.
"There's nothing wrong with a few extra indulgences around the holidays," said SouthCoast Health general practitioner Dr. Leland Dampier. "But it's also a great opportunity to encourage active, healthy habits with your family."
To help with this, here are some idea to help get your family up and moving:
Enjoy the Sites of the Savannah Historic District
Filled with cobblestone streets, lush parks and exquisite gardens, the Savannah Historic District comprises 20 city squares made for walking. Some of the architecture pre-dates the Civil War, so you will find plenty to see and discuss while you get your exercise. Do some research ahead of time so you have interesting facts to share with everyone!
Take in the History of Bonaventure Cemetery
A cemetery might seem like an odd choice over the holidays, but then again, the Bonaventure is no ordinary graveyard. Full of artistic Southern Gothic charm, the Bonaventure hosts a natural cathedral, sculptural garden and breathtaking views. It costs nothing to go and take in the history of the Bonaventure, so walk the trails with your family this year and be thankful.
Hike or Ride A Trail Nearby
No matter where you live, chances are you are not too far from a walking or bike trail. Gather your group and hit the trails to check out the beautiful fall foliage and enjoy the crisp cool weather. With the days getting shorter, you might consider planning this outing before dinner instead of after.
Take a Stroll Around Your Neighborhood
If traveling far from home seems like too much effort, you can also suggest a stroll around your neighborhood. Even this light cardio is a great way to get your blood flowing and digestion moving. If you have family in-town for the holiday, this is also a great way to show them around the neighborhood you call home.
Start a new, healthier tradition this holiday season by suggesting one of these ideas for a family outing. You're sure to have lots of fun and your body will thank you!
---
Whether you are looking for a primary care doctor or a pediatrician, or another medical specialist, SouthCoast Health has you covered with its wide range of world-class healthcare services, available throughout the Coastal Empire and Lowcountry. SouthCoast Health has 120 physicians and medical professionals in 18 locations in Savannah, Richmond Hill, Pooler, Rincon, Baxley, Hilton Head, Hinesville, and Statesboro. SouthCoast Health offers comprehensive medical services including: Family Medicine, Internal Medicine, Pediatrics, Allergy and Asthma, Cardiology, Endocrinology, Eye Care, Imaging, Infectious Diseases, Nephrology, Neurology, Physical Therapy, Podiatry, Sleep Medicine, Surgery, Clinical Trial Research Studies, Diabetic Self-Management Training Sessions, Dietetic Counseling, Laboratory Services, Massage Therapy, Optical Shop, Pharmacy, and Urgent Care.