SouthCoast Health's diabetes classes empower patients
Monday, November 21, 2016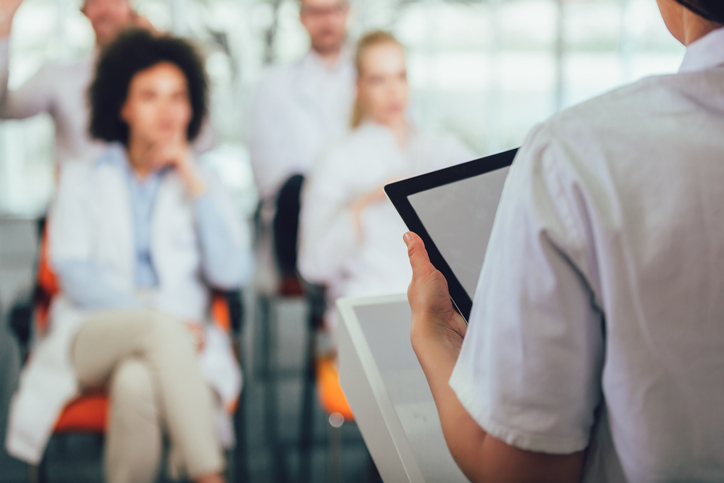 Diabetes is a vascular disease related to obesity and poor diet. According to the American Diabetes Association (ADA), more than 1.1 million people in Georgia suffer from diabetes. That number translates to 11 percent of Georgia's population, which is disproportionate compared to the rest of the nation where the national average is lower at 9.3 percent. Of the, 1.1 million, around 6,000 are patients at SouthCoast Health.
SouthCoast Health takes a proactive approach to treating diabetes by offering training sessions that empower diabetics and their families with the knowledge and tools to live with the disease. There are 4 separate group sessions that encompass the program. These diabetic self-management training sessions are led by healthcare professionals in a group setting with other diabetic patients and their family members. Tammie E. Walz, nurse practitioner at SouthCoast, is one of the instructors and was an originator of the program. She explains, "classes are presented on a variety of diabetes topics including healthy eating, being active, medications, lab work, complications and blood sugar tracking."
The classes are offered both during the week and on Saturdays to provide flexibility to patients' work schedules. The classes are open to diabetic patients and those who are pre-diabetic (the ADA estimates that nearly 2.6 million Georgians — or 36.1 percent of the population — have blood glucose levels higher than normal but not yet high enough to be diagnosed with having diabetes).
Dr. Theodore Geffen, who practices family medicine, said SouthCoast's philosophy is to "partner" with its patients, which is part of the practice's total wellness for life approach.
"It's a program designed to empower our patients to understand what's going on with them," he said. "We're partnering with them instead of telling them what to do. Telling a patient to 'take this medicine and come back in a month' isn't the best way to deal with any disease."
As part of that approach, the diabetes care at SouthCoast involves a variety of health care professionals including pharmacists, doctors, dieticians, podiatrists and ophthalmologists, among others. "Treating diabetes is like caring for a vehicle: Instead of taking the vehicle to a shop that only specializes in transmissions to get it fixed, the service offered at SouthCoast is like taking your vehicle to a shop that does transmissions, timing belts, brakes and more — and teaches the owner how to do the work," said Geffen.
Dr. Geffen said the ADA suggests that patients attend training every two years.
"Ninety percent of people who complete our sessions get a lot out of them," he said. "There are a lot of people who have had diabetes for years. They'll say, 'I didn't know that, didn't understand that.' It's extremely worthwhile, especially for people who are newly diagnosed diabetics."
SouthCoast Health's primary care physicians who treat diabetes have all received Diabetes Recognition Program (DRP) recognition by the National Committee for Quality Assurance. Those who achieve DRP recognition show their peers, patients and others in the Diabetes community that they are part of an elite group that is publicly recognized for their skill in providing the highest-level of diabetes care.
Walz, who has worked in SouthCoast's internal medicine department for 20 years, says often receives questions from patients who attend the classes about their medications and about how to modify their diet. "I am asked about diet all the time," she said. "They wonder, 'How did I get to be diabetic?' Many think that because they don't have family history that they shouldn't be diabetic."
When patients complete the final training session, SouthCoast presents them with a certificate. Walz said the certificates can have a positive impact with insurance companies in terms of preventing a patient's rates from increasing and, at times, by preventing the insurer from terminating the patient's coverage.
Learn more about South Coast Health's Diabetic Self-Management Training Sessions here: https://www.southcoast-health.com/diabeticselfmanagementtrainingsessions.
---
Whether you are looking for a primary care doctor or a pediatrician, or another medical specialist, SouthCoast Health has you covered with its wide range of world-class healthcare services, available throughout the Coastal Empire and Lowcountry. Founded in 1996, SouthCoast Health has 120 physicians and medical professionals in 17 locations in Savannah, Richmond Hill, Pooler, Rincon, Baxley, Bluffton, Hilton Head, Hinesville, and Statesboro. SouthCoast Health offers comprehensive medical services including: Family Medicine, Internal Medicine, Pediatrics, Allergy and Immunology, Cardiology, Endocrinology, Eye Care, Imaging, Infectious Diseases, Nephrology, Neurology, Physical Therapy, Podiatry, Sleep Medicine, Surgery, Clinical Trial Research Studies, Diabetic Self-Management Training Sessions, Dietetic Counseling, High Risk Breast Cancer Clinic, Laboratory Services, Massage Therapy, Optical Shop, Pharmacy, and Urgent Care.