The Important Connection Between Diabetes and Eye Care
Thursday, February 2, 2017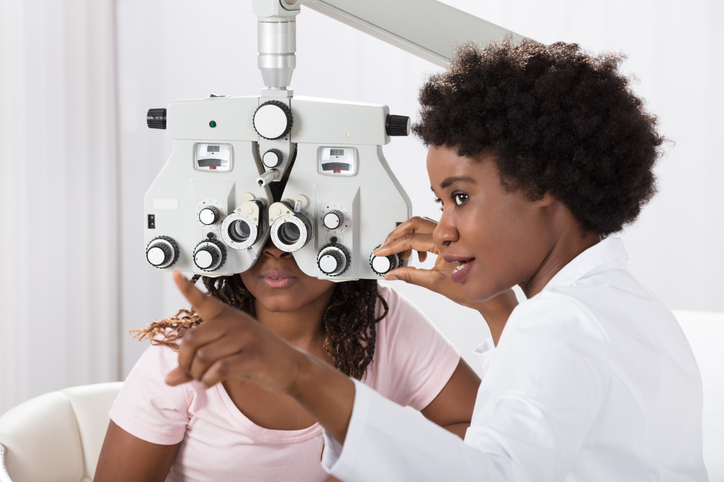 At SouthCoast Health, we believe the integration of medical services across multiple specialty areas is key to ensuring a holistic wellness experience for the patient. One example of the importance of this integration is diabetes and eye care, areas covered at SouthCoast through our Eye Care and Primary Care departments as well as our Diabetic Self-Management program. With more than 1.1 million people in Georgia suffering from diabetes, and considering that diabetes is one of the leading causes of blindness in young Americans, this connection is even more important for our community and patients.
Led by Ophthalmologist, Stephanie Croll, M.D., along with Optometrist Edward Sammons, SouthCoast Health's Eye Care department contributes to the Total Wellness of our patients.
"The communication between the eye specialist and primary care physician is vital," said SouthCoast optometrist Dr. Edward Sammons. "Often times, there can be findings in an eye exam that may clue in a patient's primary care doctor to uncontrolled diabetes or undiagnosed diabetes. Our integrated technology of communication makes this treatment system unique."
Diabetes can affect many systems in the body, including ocular health. This chronic condition can damage the blood vessels throughout the entire body, especially the kidneys, heart, and eyes.
"This is why it's so important to keep a strong emphasis on dilated eye exams every 6-12 months," said Dr. Sammons. "It allows us to intervene quickly if complications arise. Good visual health is vital for independent living, so it is important to take quick action in these situations."
During a dilated eye exam, the eye care team checks for weak or leaky blood vessels of the retina that can cause swelling and hemorrhaging inside the eye, potentially leading to permanent vision loss or even blindness. A dilated retinal exam is the only way to directly view the body's microvasculature. This exam allows us to gauge the vascular health of not only the eyes, but of the entire body.
If you are unsure about your need for a regular eye exam, talk with your primary care physician. We also invite you to learn more about the SouthCoast Health Diabetic Self-Management Training program and Eye Care department on our website.
---
Whether you are looking for a primary care doctor or a pediatrician, or another medical specialist, SouthCoast Health has you covered with its wide range of world-class healthcare services, available throughout the Coastal Empire and Lowcountry. SouthCoast Health has 120 physicians and medical professionals in 18 locations in Savannah, Richmond Hill, Pooler, Rincon, Baxley, Hilton Head, Hinesville, and Statesboro. SouthCoast Health offers comprehensive medical services including: Family Medicine, Internal Medicine, Pediatrics, Allergy and Immunology, Cardiology, Endocrinology, Eye Care, Imaging, Infectious Diseases, Nephrology, Neurology, Physical Therapy, Podiatry, Sleep Medicine, Surgery, Clinical Trial Research Studies, Diabetic Self-Management Training Sessions, Dietetic Counseling, Laboratory Services, Massage Therapy, Optical Shop, Pharmacy, and Urgent Care.