Tips to "Put Your Best Fork Forward" for National Nutrition Month
Tuesday, March 21, 2017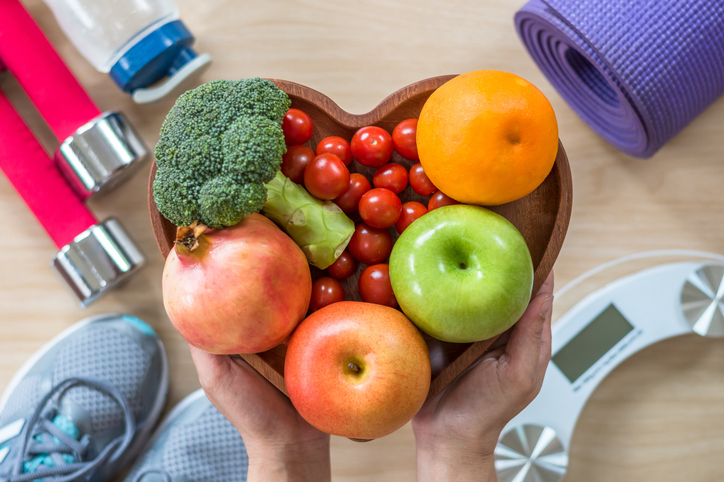 March is National Nutrition Month! In honor of this, the SouthCoast Health nutritionist dietetic counseling team gave more insight into the campaign and offered advice to those trying to live a healthier lifestyle, bite by bite.
When asked about what two to three changes people should make in order to be healthier, our team immediately thought of how to approach eating your fruits and vegetables. Being more mindful of not only how many fruits and vegetables you eat in a day, but the way they're prepared is important. Not only are most Americans not reaching their recommended daily intake, they're also consuming vegetables that are prepared in unhealthy ways, such as being covered in sauces, excessive seasoning, or fried, which adds unwanted calories and saturated fat. Drinking fruit juices that contain added sugars is also not recommended, according to our team. Instead, you should focus on having a colorful plate of healthily prepared, vitamin-packed fruits and vegetables. The more colorful your plate, the better!
How people consume grains was also at the top of the list to keep in mind. Our team advised for people to choose whole grain over refined grain while shopping. For example, eat brown rice rather than white rice. A practical tip is to try to make half of your grain intake be from whole-grained foods and foods that are high in dietary fiber. Avoiding refined grain will bring you one step closer to making sure you're consuming wholesome nutrients to keep you healthy.
For the past couple of years, it seems like American culture has shifted towards becoming more health-conscious. Our team agreed. They also noticed an increase in proper nutrition awareness but believes there is still a lack of education. Though there's an increase in health-centered campaigns that leave people wanting to change, most people don't know what and how to make these healthy lifestyle changes. In addition to keeping the earlier mentioned tips in mind, one big factor that's changing in the food industry will help people become more aware of what they're consuming. Our team explained that food manufacturers had until July 26, 2018 to adopt a newly updated Nutrition Facts label. This new label will be more consumer-friendly and include new information, such as a line for added sugars, which will be especially helpful for diabetics. The calories will be printed much larger and the serving size portions will be correctly adjusted to reflect portion sizes that a typical American eats.
When asked about the advantages and disadvantages to living in the Lowcountry and Coastal Empire region in regards to nutrition, our team explained that people should learn how to balance both. As for disadvantages, this region is packed with restaurants that serve Southern-style cooking, meaning a lot of fried foods smothered in sauces with an iced sweet tea. Though these are fine to eat every once in a while, our team definitely doesn't recommend eating that type of food on a regular basis. As for advantages, our team loves the fact that the South offers many beautiful parks and outside areas that encourage people to spend time being active outdoors. The generally nice weather in the region is also another reason for people to go out and explore the city.
Overall, our team likes and supports the "Put Your Best Fork Forward" campaign and encourages everyone to educate themselves on how to make micro, healthy lifestyle changes. Our team believes that everyone is capable of obtaining a balance between healthy eating, physical activity, and enjoying good food and culture.
---
Whether you are looking for a primary care doctor or a pediatrician, or another medical specialist, SouthCoast Health has you covered with its wide range of world-class healthcare services, available throughout the Coastal Empire and Lowcountry. Founded in 1996, SouthCoast Health has 120 physicians and medical professionals in 17 locations in Savannah, Richmond Hill, Pooler, Rincon, Baxley, Hilton Head, Hinesville, and Statesboro. SouthCoast Health offers comprehensive medical services including: Family Medicine, Internal Medicine, Pediatrics, Allergy and Asthma, Cardiology, Endocrinology, Eye Care, Imaging, Infectious Diseases, Nephrology, Neurology, Physical Therapy, Podiatry, Sleep Medicine, Surgery, Clinical Trial Research Studies, Diabetic Self-Management Training Sessions, Dietetic Counseling, Laboratory Services, Massage Therapy, Optical Shop, Pharmacy, and Urgent Care.