5 Tips For Not Letting Allergies Get the Best of You This Season
Friday, March 24, 2017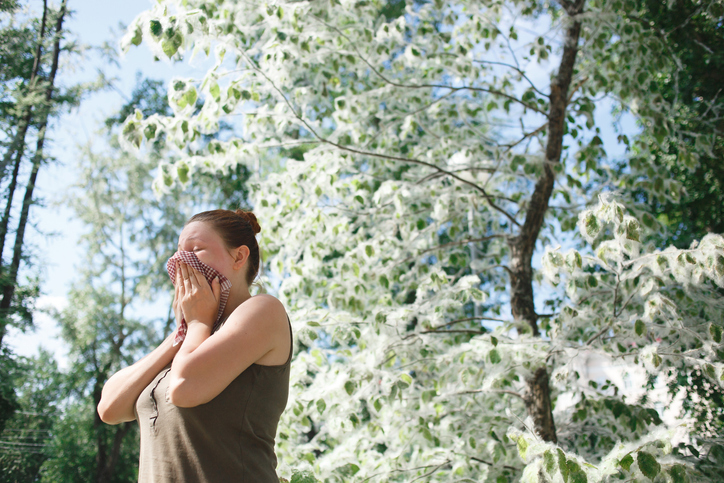 If you suffer from seasonal allergies, you know that the upcoming pollen season can be rough in the Savannah region. SouthCoast Health allergist Dr. Wasil Khan shares some insider tips to help you combat these symptoms and enjoy the spring season without being clouded by pesky allergies.
Receive an accurate diagnosis from an allergy specialist.
Allergists are physicians who have completed fellowship training in the specialty and obtained certification from The American Board of Allergy and Immunology. They can help you correctly determine if symptoms including nasal congestion, sneezing, nasal drainage, and itching are caused by allergies. Once the cause of your symptoms is determined, you and your allergist can work together to devise an effective treatment plan with options such as developing an allergen avoidance strategy, selecting the best medications, or even changing how you respond to allergens through designing immunotherapy regimens individualized to you. Determining the correct diagnosis, however, is the crucial first step towards alleviating your symptoms.
Determine which treatment plan is best for you.
Once allergies are found to be present, and the triggering allergens are identified, several treatment plans become available. Your allergist can work with you to develop a treatment strategy to minimize the effect of your allergies in your life. Allergists are knowledgeable about how allergens produce your symptoms, so they can provide treatment plans that are the most likely to achieve the desired results.
Obviously, the most efficient way to avoid symptoms caused by allergies is to elude the triggering allergen. To learn more about how avoidance can help, skip ahead to the next tip.
Sometimes, it is not possible to completely avoid allergens. Medications can help in these instances to reduce symptoms caused by allergen exposure. Talking to your allergist will determine which medication is best for you.
When avoidance of triggering allergens is difficult, and medications are not adequately effective or well tolerated, you and your allergist can decide to change how your body reacts to allergens by desensitizing you to the allergens through a method called immunotherapy. This involves exposing your body to small doses of allergen by injection or under the tongue, resulting in loss of the allergic response to the allergen when encountered in the environment.
SouthCoast Health's Allergists provide all of these services.
Avoid the allergens that bother you the most.
Avoiding allergies is an easy way to lessen the effects of this season on your health. Preventing these allergens from entering your house is an excellent way to do so. For example, leaving your windows shut during the springtime will keep the pollen outside. After performing a physical activity outside, shower as soon as possible to prevent those allergens from attaching to items in your house such as pillows or sheets. In the same vein, if you were playing outside with your dog, make sure to wash them off completely before allowing them back inside your home. Wiping your feet at the door is another big help in keeping those allergens at bay.
Do your research and learn the best way to prevent particular allergens from spreading in your living space, and you may see a significant decrease in the symptoms you suffer.
Start treatment earlier rather than later.
Don't wait until you start feeling allergy symptoms to begin your treatment. Staying on top of the weather reports in your area could inform you if your allergies will be more persistent during the day, therefore taking medications before leaving the house will prevent the symptoms from arising.
Watch the pollen count in your area.
Beginning your day by checking the pollen count is an excellent way to ensure you stay on top of your allergy treatments. There are several resources available on the internet — such as Pollen.com and AccuWeather.com— that are great tools for doing so. If the pollen count in your area is high for the day, taking your medication before leaving the house will prevent symptoms from surfacing. You can also make adjustments to your daily plans to help avoid unnecessary time outdoors on days when the count is exceptionally high.
SouthCoast Health offers a wide variety of treatments and services to help treat seasonal allergies. Click here to learn more about our Department of Allergy and Immunology. Don't let allergies rule your life this spring!­
---
Whether you are looking for a primary care doctor or a pediatrician, or another medical specialist, SouthCoast Health has you covered with its wide range of world-class healthcare services, available throughout the Coastal Empire and Lowcountry. SouthCoast Health has 120 physicians and medical professionals in 18 locations in Savannah, Richmond Hill, Pooler, Rincon, Baxley, Bluffton, Hilton Head, and Hinesville. SouthCoast Health offers comprehensive medical services including: Family Medicine, Internal Medicine, Pediatrics, Allergy and Immunity, Cardiology, Endocrinology, Eye Care, Imaging, Infectious Diseases, Nephrology, Neurology, Physical Therapy, Podiatry, Sleep Medicine, Surgery, Clinical Trial Research Studies, Diabetic Self-Management Training Sessions, Dietetic Counseling, High Risk Breast Cancer Clinic, Laboratory Services, Massage Therapy, Optical Shop, Pharmacy, and Urgent Care.