5 Tips To Keep Your Feet Healthy During Summer From SouthCoast Health Podiatrist Dr. Skalla
Monday, April 17, 2017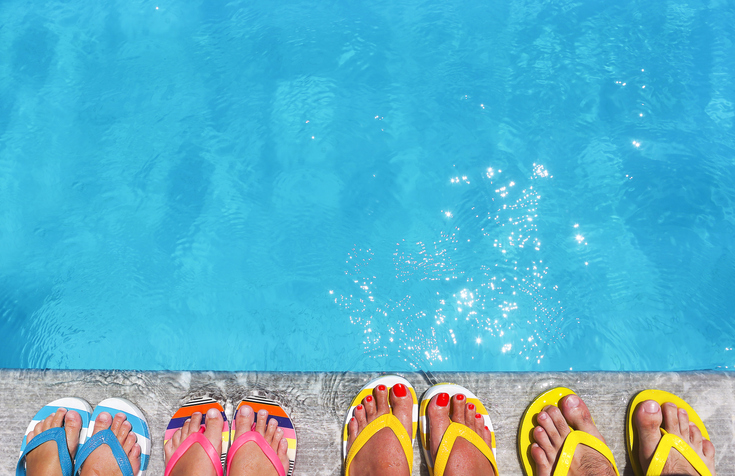 The summer can be a busy time for our feet. It is also a time of high-risk for contracting fungal infections and damaging your feet. Here are five tips to help keep your feet healthy from SouthCoast Health podiatrist Dr. Craig K. Skalla.
1. Stay Clean
The summer is a common time for many people to contract warts and fungal infections on their feet. To prevent this, take extra measures to ensure the cleanliness of your feet and thwart the spreading of bacteria. Always wash your feet after water activities, and avoid walking around barefoot. Before you walk into your house after being outside all day, make sure to take your shoes off to avert the spreading of bacteria from outside into your home. If your socks and shoes have become wet, take them off immediately and allow them to dry properly before putting them back on.
Keeping up with the responsibility of cleaning your feet will significantly lower your chances of contracting infections or fungi.
2. Care Properly for Sweaty Feet
Sweaty feet can be a difficult problem in the summer time. Giving your feet breathing room is an excellent way to combat sweaty feet, so choose open-toed shoes when going outside and avoid wearing socks and shoes if staying inside. Make sure to wash your feet regularly to prevent the buildup of sweat and stench.
3. Wear the Right Shoes
When shopping for new shoes, make sure to buy ones that don't require breaking in. Blisters not only hurt, but they also carry a high risk of infection. Buying shoes that are comfortable is a great first step, but, if you feel a blister coming on, make sure to add protection to your skin.
While flip flops are always a favorite summertime shoe, they lack the proper support for your feet and can be a breeding ground for bacteria. Consider buying flip flops that have better support for your feet, and always make sure to throw away old shoes. The older the shoe, the more bacteria that has gathered on its surface.
4. Food and Water Affect Feet Too
It may be no surprise to you that our diets affect our feet. Foods high in salt and sugar can cause our feet to swell and become puffy. Avoid packaged foods that are heavily salted, and make sure to drink plenty of water to keep your body and feet hydrated.
5. Create Your Perfect Self-Care Regiment
Don't forget to pamper your feet, especially in this busy season, to prevent cracks on your heels. Make sure to wear sunscreen to prevent sunburn and other skin issues. Giving your feet long scrubs with a salt scrub and using moisturizer are excellent ways to keep your feet healthy. There are countless of products available, so spend time researching to find the one that works best for you.
We at SouthCoast Health want you to enjoy summer, but these outdoor activities can wreak havoc on your feet. Follow these tips to keep your busy feet safe and happy.
SouthCoast Health offers a number of services in podiatry. Call (912) 691-4100 for an appointment to ensure your feet are at their healthiest.
---
Whether you are looking for a primary care doctor or a pediatrician, or another medical specialist, SouthCoast Health has you covered with its wide range of world-class healthcare services, available throughout the Coastal Empire and Lowcountry. Founded in 1996, SouthCoast Health has 120 physicians and medical professionals in 17 locations in Savannah, Richmond Hill, Pooler, Rincon, Baxley, Bluffton, Hilton Head, Hinesville, and Statesboro. SouthCoast Health offers comprehensive medical services including: Family Medicine, Internal Medicine, Pediatrics, Allergy and Immunology, Cardiology, Endocrinology, Eye Care, Imaging, Infectious Diseases, Nephrology, Neurology, Physical Therapy, Podiatry, Sleep Medicine, Surgery, Clinical Trial Research Studies, Diabetic Self-Management Training Sessions, Dietetic Counseling, High Risk Breast Cancer Clinic, Laboratory Services, Massage Therapy, Optical Shop, Pharmacy, and Urgent Care.