Celebrating National Nurse's Week: Nurse Barbara Lutz Tells Her Story
Thursday, May 11, 2017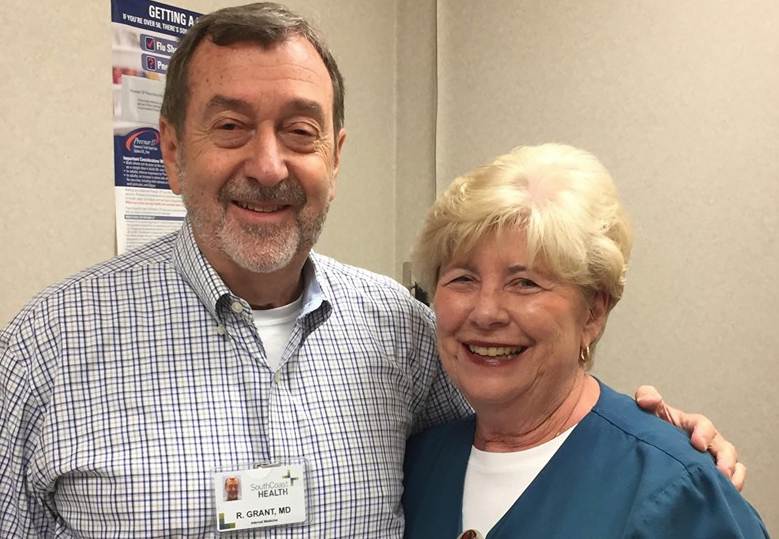 SouthCoast Health's nurses are just as talented, passionate, and intelligent as the doctors on our team. We're incredibly thankful for all they do for our practice, and, with it being National Nurse's Week this week, we've spoken to SouthCoast Health Nurse Barbara Lutz to learn her story.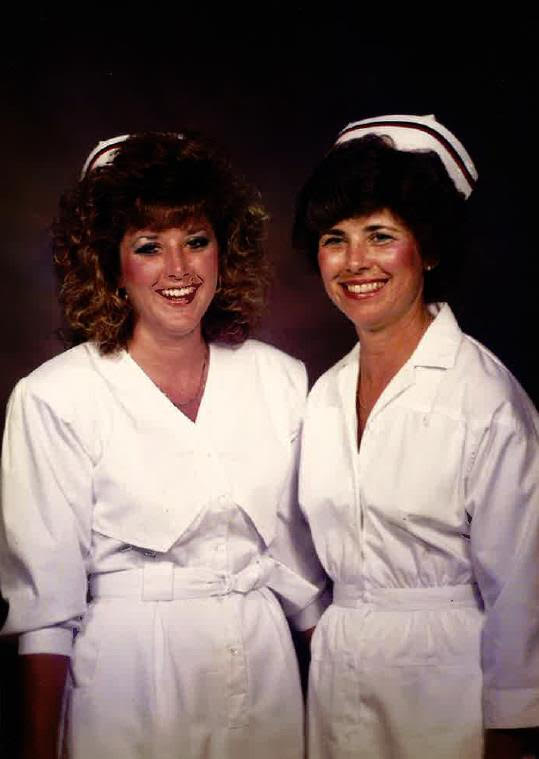 Barbara with her daughter, Maureen, when they graduated from Armstrong State College in 1987.
Nurse Barbara Lutz has been working with Dr. Robert Grant for 29 years come June. She was awarded Employee of the Year in December 2016, and, if you look at Dr. Grant's webpage, you can read comments from patients of why she is so deserving of the award.
"I'm very humbled," Barbara said. "But I'm also very satisfied that people recognize that I'm doing a good job. I'm not in it for the money or the recognition, but it's nice when people say something about the level of service I give."
Despite Barbara's success, her path to working with SouthCoast Health wasn't always clear. After graduating from St. Vincent's Academy in 1963, Barbara went to St. Joseph's Nursing School. After six months, she left due to personal reasons.
Hoping to finish her education, she went to Armstrong State College, back when it was not a university. She spent a year and a half there and completed her core work. After marrying her husband, Richard Lutz, Sr. in 1965, she paused her education to start a family. Nursing, however, remained one of her biggest passions.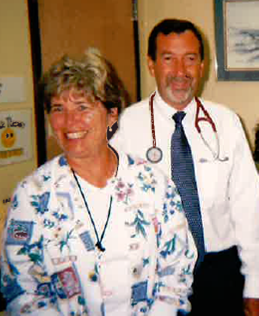 Barbara with Dr. Grant in 1996.
It wasn't until Barbara was 39 that she went back to nursing school. At that time, her oldest daughter, Maureen Lutz Morin (Reenie), decided to enroll in nursing school, and the two began classes together.
Barbara said, "I missed learning about nursing and learning how to take care of patients. It's a God-given thing to serve other people, and I'm a strong Catholic. My beliefs helped me to realize this was a service I was drawn to do."
Barbara and her daughter attended Armstrong State College together from 1985 to 1987, and they graduated together as a mother-daughter pair with an Associate's Degree in Nursing in June 1987. Afterward, Barbara went to work at St. Joseph's Hospital. Dr. Robert Grant worked hospital rounds there, and he witnessed her talent of caring for patients and the meticulousness of the notes she left on patient's charts. He asked Barbara if she wanted to work with him. Barbara agreed, and, after a year of working part-time with him and part-time with the hospital, Barbara decided to join Dr. Grant full-time.
Now, Dr. Grant and Nurse Barbara Lutz are an unstoppable pair. The two have a pact that one won't retire without the other.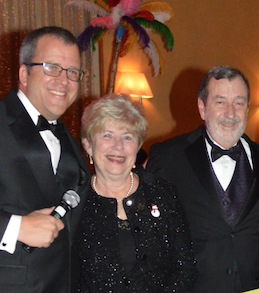 Barbara won Employee of the Year with administrator John Marrero and Dr. Grant in 2016.
"You read each's minds after all of these years," Barbara said. "I respect every decision he makes, but if he asks my opinion on something, I give it to him. He is a fantastic teacher, and he's taught me so much that I didn't learn in school."
From the time Barbara began her career to now, the world has witnessed a lot of evolution and growth. Changes in healthcare laws have been passed to protect the interests of patients. The invention of the internet changed not only smaller elements of nursing like scheduling appointments or contacting patients, but also the way that people, nurses and patients alike, gather their information about healthcare. These advances in technology and equipment have been the catalyst for how nurses earn their education, how patients discover their current doctors, and even what makes a healthcare business successful. In other words, healthcare today is vastly different from what it once was 29 years ago.
Despite all of these changes, there are qualities of nursing that haven't been affected: the strength of the bond between nurse and doctor and the connection of nurses to their patients.
"I love office nursing for continuity of care," Barbara explained. "After seeing the same patients every few months, you develop a friendship with them, and you know the ones who truly need your help when they call. It's all about making a difference in their lives to me, and through that, you become not only their medical counselor but also their social counselor. You teach them as much as they teach you."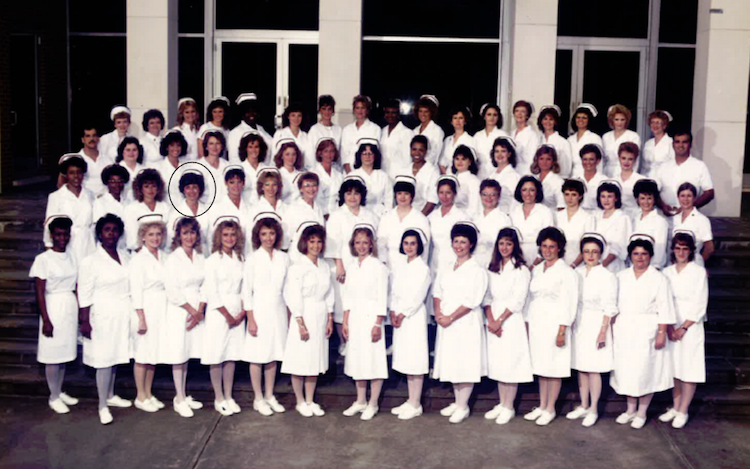 ​Barbara shown in the circle with her graduating class of 1987.
Outside of working hard with Dr. Grant, Barbara loves spending time with her family. Barbara's four children are married and have kids of their own. In total, Barbara has 13 grandchildren, ranging from ages seven to 27. The oldest is now pursuing her doctorate in physical therapy at Armstrong University. While Barbara lost her husband four years ago to Alzheimer's, she says her children and grandchildren have been a great comfort in those hard times. Her favorite things to do, however, are watching the little kids' sports games and going on walks. When she retires, she plans on spending her time volunteering and possibly continuing her work as a nurse.
Nurse Barbara Lutz is one of the many incredible nurses SouthCoast Health has on staff. National Nurse's Week is all about celebrating the nurses who lead the charge for health and wellness, and Barbara is one exceptional example. If you would like to schedule an appointment with Dr. Grant and Barbara Lutz, click here.
---
Whether you are looking for a primary care doctor or a pediatrician, or another medical specialist, SouthCoast Health has you covered with its wide range of world-class healthcare services, available throughout the Coastal Empire and Lowcountry. SouthCoast Health has 120 physicians and medical professionals in 18 locations in Savannah, Richmond Hill, Pooler, Rincon, Baxley, Bluffton, Hilton Head, and Hinesville. SouthCoast Health offers comprehensive medical services including: Family Medicine, Internal Medicine, Pediatrics, Allergy and Immunity, Cardiology, Endocrinology, Eye Care, Imaging, Infectious Diseases, Nephrology, Neurology, Physical Therapy, Podiatry, Sleep Medicine, Surgery, Clinical Trial Research Studies, Diabetic Self-Management Training Sessions, Dietetic Counseling, High Risk Breast Cancer Clinic, Laboratory Services, Massage Therapy, Optical Shop, Pharmacy, and Urgent Care.