SouthCoast Health Cardiologist Dr. Roy Flood Answers Frequently Asked Questions About High Blood Pressure
Thursday, May 18, 2017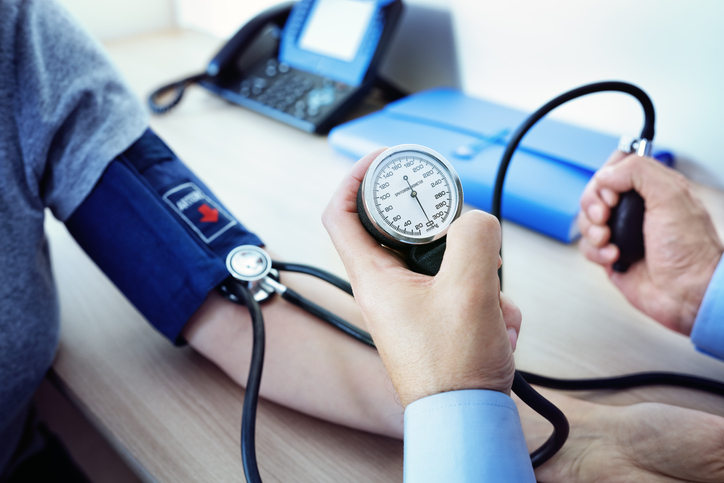 To spread awareness of a medical condition that affects 1 in 3 American adults, SouthCoast Health Cardiologist Dr. Roy Flood explains high blood pressure and gives guidelines to reduce the effects of this disease.
What is high blood pressure?
High blood pressure, also known as hypertension, occurs when the force of blood flowing through the blood vessel becomes too high. When left untreated, it overworks the circulatory system which can lead to heart attack, stroke, heart failure, vision loss, kidney disease and failure, and sexual dysfunction. There are often no warning signs of this condition developing, so prevention is key.
What causes high blood pressure?
Certain physical traits and lifestyle choices increase the chances of high blood pressure.
For example, African-Americans, men, individuals over the age of 45, and those with a family history of high blood pressure are at an elevated risk of developing this condition.
As mentioned, lifestyle choices increase your risk as well. Risk factors include a sedentary lifestyle, an unhealthy diet saturated with sodium, being overweight, drinking a large amount of alcohol, and smoking. Similarly, high levels of stress can contribute to rising blood pressure and other medical conditions, such as sleep apnea or kidney disorders, affect the speed at which the blood flows.
How can you prevent high blood pressure?
Currently, no cure exists for high blood pressure. However, some steps can be taken to avoid the condition from developing and minimize its symptoms for those who have already developed it.
Maintain a healthy weight. This is one of the key components to preventing your blood pressure from climbing too high and also keeping the symptoms of hypertension under control.
Reduce the amounts of sodium in your diet. In addition, picking healthier food options and reducing the amount of alcohol consumed daily to one to two drinks are simple ways to keep your body and heart healthy.
Do not smoke. The chemicals in tobacco damage your arteries, causing them to narrow and your blood pressure to rise.
Perform 40 minutes of moderate to vigorous physical activity three to four times per week. In doing so, you will ensure that your body mass index (BMI), a measurement of body fat based on your weight in relation to your height, is between 18.5 and 24.9. To see if your BMI is where it should be, click here. If your BMI is in its target area, then your heart is in good condition. The higher your BMI is out of its range, the more work your heart endures.
Above all, having a conversation with your doctor about your blood pressure is a vital first step. Your doctor understands which lifestyle changes are the ones you need to make to prevent your blood pressure from rising too high.
If you believe you have high blood pressure or are struggling to keep your blood pressure at a healthy level, request an appointment with SouthCoast Health today.
---
Whether you are looking for a primary care doctor or a pediatrician, or another medical specialist, SouthCoast Health has you covered with its wide range of world-class healthcare services, available throughout the Coastal Empire and Lowcountry. Founded in 1996, SouthCoast Health has 120 physicians and medical professionals in 17 locations in Savannah, Richmond Hill, Pooler, Rincon, Baxley, Bluffton, and Hinesville. SouthCoast Health offers comprehensive medical services including: Family Medicine, Internal Medicine, Pediatrics, Allergy and Immunity, Cardiology, Endocrinology, Eye Care, Imaging, Infectious Diseases, Nephrology, Neurology, Physical Therapy, Podiatry, Sleep Medicine, Surgery, Clinical Trial Research Studies, Diabetic Self-Management Training Sessions, Dietetic Counseling, High Risk Breast Cancer Clinic, Laboratory Services, Massage Therapy, Optical Shop, Pharmacy, and Urgent Care.