The Dos and Don'ts of July 4th
Friday, June 23, 2017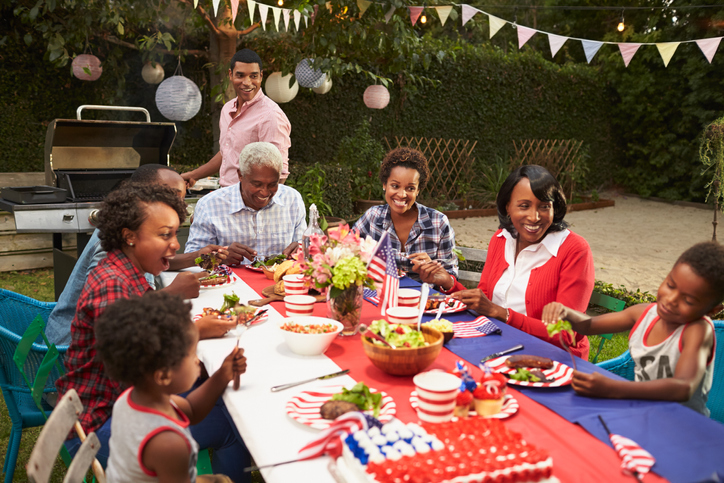 Get out the sparklers, grill, and patriotic colors, Independence Day is almost here! This holiday is a very exciting and special time down in the Coastal Empire and Lowcountry.
"We want all community members to have fun and make the most out of this holiday," said SouthCoast Health Internal Medicine Physician Dr. Michelle Wilson. "But we also want to stress the importance of keeping in mind safety and health precautions as well. On any big holiday with parties and events, there are always elevated risks to be aware of."
It can be hard to balance fun and safety in some instances, so we've written a list of dos and don'ts for any situation you may find yourself in this 4th of July. Plan on going swimming? We've got some tips to help you be safe. Can't wait to fire up that grill? We've got you covered there, too.
Firework Dos and Don'ts:
DO:
Do wear protective gear if you're the one shooting the fireworks.
Do keep a fire extinguisher and a stash of water nearby, just in case.
Do store your fireworks in a safe, dry area before shooting them.
Do make sure all your pets are safe and secure if they're alone while fireworks go off. Many animals will react negatively to the loud noises and may try to escape if they're outside.
DON'T:
Don't attempt to shoot more than one firework at a time.
Don't point fireworks at other people or creatures.
Don't shoot fireworks at buildings, trees, or other easily flammable items.
Don't allow small children to handle fireworks or sparklers without assistance.
Grilling Dos and Don'ts:
DO:
Do constantly supervise a grill in use.
Do follow the instructions that came with your grill to ensure that you are using your equipment correctly.
Do keep your grill clean, but make sure that you don't leave behind any cleaning residues. Did you know that about 130 people a year are sent to the emergency room because they swallowed a wire bristle from the popular grill cleaning brush?
Do keep a supply of water and a fire extinguisher nearby, just in case. Sound familiar?
DON'T:
Don't grill in a location near extremely flammable items, like right underneath a tree. Preferably, grill in an open area away from your house.
Don't let unsupervised children play around the grill. If you're having a party, it's also a smart idea to keep the grill a safe distance from the hustle and bustle of your guests.
Don't overload your grill with too much food at once, especially fatty meats. If too much fat drips on the flames at once, it can cause the flames to grow out of control.
Don't grill inside, not matter how small the grill is. Grills release carbon monoxide, which, if not allowed to vent, becomes deadly at certain dosages.
Swimming Dos and Don'ts:
DO:
Do swim in an area supervised by a lifeguard.
Do watch your children and animals if they are around water. If you have a pool, consider investing in a gate to enclose it.
Do create a family safety plan for being around the water. This plan should cover things such as how to handle rip currents, rules for swimming, and what do in case the family gets split up.
Do keep alert for local wildlife and give them plenty of space.
DON'T:
Don't drink alcohol excessively if you are planning to be around large bodies of water.
Don't ignore the weather: avoid areas if there are any signs of storms or troubling waters to come.
Don't forget your sunscreen.
Don't litter. Littering can harm other humans or creatures in the area.
Large Event Dos and Don'ts:
DO:
Do plenty of research before going to the event. Doing so will ensure you completely know the area you are in, which could become handy later on.
Do know which exits are closest to you.
Do have an emergency plan to share with your family, including a location for everyone to meet at should anyone get separated.
Do enjoy yourself. You're out to have fun and stay safe.
DON'T:
Don't panic in the event of an emergency.
Don't forget to be aware of your surroundings.
Don't overlook taking back roads when going to or leaving a crowded event.
Don't separate from your friends and family, whether in an emergency or not. If possible, stay together at all times.
If you have any more questions about keeping you and your family safe during 4th of July, or if you would like to talk to a medical expert about anything health and safety related, make an appointment with SouthCoast Health here!
---
Whether you are looking for a primary care doctor or a pediatrician, or another medical specialist, SouthCoast Health has you covered with its wide range of world-class healthcare services, available throughout the Coastal Empire and Lowcountry. Founded in 1996, SouthCoast Health has 120 physicians and medical professionals in 17 locations in Savannah, Richmond Hill, Pooler, Rincon, Baxley, Hilton Head, Hinesville, and Statesboro. SouthCoast Health offers comprehensive medical services including: Family Medicine, Internal Medicine, Pediatrics, Allergy and Immunology, Cardiology, Endocrinology, Eye Care, Imaging, Infectious Diseases, Nephrology, Neurology, Physical Therapy, Podiatry, Sleep Medicine, Surgery, Clinical Trial Research Studies, Diabetic Self-Management Training Sessions, Dietetic Counseling, Laboratory Services, Massage Therapy, Optical Shop, Pharmacy, and Urgent Care.