Keep Your Child Safe this School Season
Monday, July 31, 2017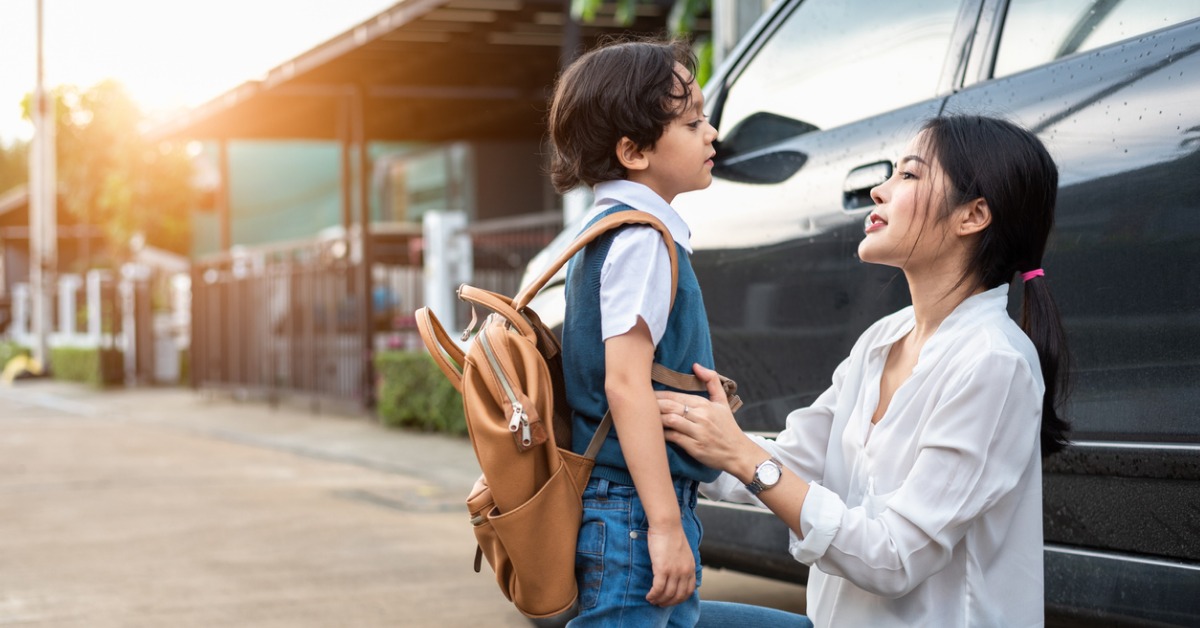 We know that your kids might be bummed out that summer is drawing to a close, but the school season can be just as fun and exciting. As parents and children gear up for the start of yet another school year, a question on a lot of parents' minds is how to ensure their child's safety.
"Education is incredibly important for children," explains SouthCoast Health Pediatrician Dr. William Webb. "But equally as important is establishing a feeling of safety, especially in their school environment. Not feeling safe can seriously impact a child's ability to learn, develop, and grow."
If you're like most parents, you want your child to thrive at school. Help them to do so and make sure they feel safe, comfortable, and secure by following these tips.
Get to School Safely

Whether your child rides the bus or lives close enough to school to walk, there are several things you can do to ensure your child's safety as they travel to and fro. Here's a breakdown:

Share your child's travel plans with authority figures at their school. This means teachers, administrative staff, principles, volunteers, or anyone who works directly with your child that should know of his or her whereabouts should something come up.
Buy your child a bright backpack if they do any walking. It'll make them more noticeable to cars and other vehicles passing by.
Before school starts, go over your travel route with your child together. This will eliminate any nerves and questions that might arise on the first day back.
It's also a great idea to have a backup travel route just in case.

Know Every Detail of Your Child's School Emergency Plans

Knowing your child's school's emergency plans is a great way to reduce stress and anxiety for you and your children. Not only will it help you know what to do in case of an emergency, but it will also help your child to understand what they should do. Having the school staff's contact information on hand is also a great way to be fully prepared and will reduce the chance of panic.

Talk with Your Children

Sitting down and having a safety chat with your child, no matter their age, is always a good idea. Go over what examples of emergencies are, what to do in bad situations, and make sure your child knows how to contact you in worst case scenarios. These talks don't have to be scary. Spend the conversation making sure your child feels safe, calm, and comfortable no matter what could happen. Also, use this time to tackle any anxieties or issues you see arising.

Share and Communicate with the School

If your child has any allergies, disabilities, issues, or general concerns, it is never a bad idea to communicate this to your child's teachers and other school administrators. They are there to help your child, and any information you can provide to them will only help.

Get Involved

The best way to ensure your child's safety while they are at school is to get involved! Join organizations, neighbor watches, PTAs, etc. That way, you will know the safety procedures of your school very well, you will be able to ensure the school stays safe by being involved in the decision-making processes, and you will be able to be around your child more. It's a win-win situation all around.

Handle Bullying

Bullying is a problem that a lot of children face, with about 49 percent of children in grades 4-12 reporting experiencing some form of bullying. Always carving out time in the evening to discuss how everything is going with your children is a great way to stop the negative effects of bullying. Noticing if your child continuously has bad or stressful days may be a sign that something is not right. Learn the other signs of bullying.
The school season can be a wonderful and fun time for your kids, as fun and happy as the summer is! Follow these tips to make sure your children stay safe while learning. If you're looking for a Family Medicine Physician OR Pediatrician, schedule an appointment today at SouthCoast Health today!
---
Whether you are looking for a primary care doctor or a pediatrician, or another medical specialist, SouthCoast Health has you covered with its wide range of world-class healthcare services, available throughout the Coastal Empire and Lowcountry. Founded in 1996, SouthCoast Health has 120 physicians and medical professionals in 17 locations in Savannah, Richmond Hill, Pooler, Rincon, Baxley, Hilton Head, Hinesville, and Statesboro. SouthCoast Health offers comprehensive medical services including: Family Medicine, Internal Medicine, Pediatrics, Allergy and Immunology, Cardiology, Endocrinology, Eye Care, Imaging, Infectious Diseases, Nephrology, Neurology, Physical Therapy, Podiatry, Sleep Medicine, Surgery, Clinical Trial Research Studies, Diabetic Self-Management Training Sessions, Dietetic Counseling, Laboratory Services, Massage Therapy, Optical Shop, Pharmacy, and Urgent Care.