Don't Let Summer Pests Bug You This Season
Wednesday, August 2, 2017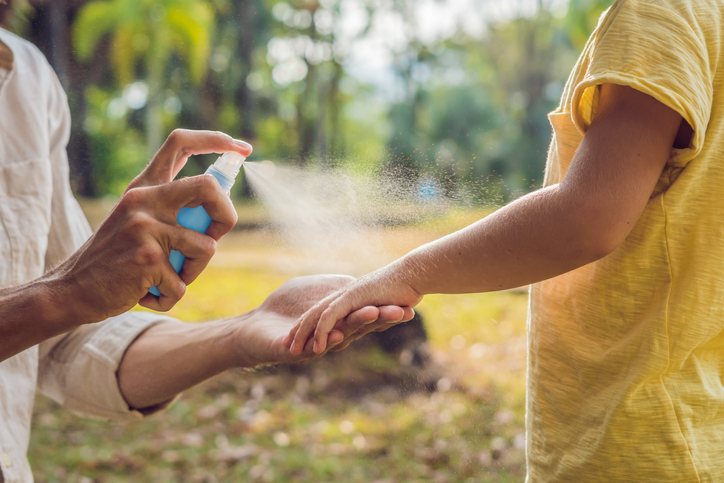 The sunshine, warm weather, and fun activities are a part of what makes summer so great. What isn't awesome about summer, though, are those pesky insects. Mosquitoes, bees, flies, hornets, gnats, and those chirping cicadas can easily bug the fun out of summer. However, we can all agree that the worst of the worst are the ones that come with a bite. The people that suffer the most from those summer bugs are our kids.
"Bugs often bite or sting children more than adults, especially kids who haven't been stung yet," explains SouthCoast Family Medicine Physician Dr. Regina Dandy. "They're more likely to be outside playing where bugs are popular, they don't know what a bug's nest looks like nor understand how they can be dangerous, and they may not perceive how much bug repellent helps them."
That's where the adults come in. Take these extra steps to prevent your children and your family from being bothered by bugs this summer.
Use Bug Repellent
This may seem like an obvious one, but often times bug repellent is forgotten or overlooked. Using this is a great first step in keeping away bugs, so include it in your morning regiment along with applying sun screen to your children's skin. However, when picking out which repellent to use, make sure to reach for ones with a higher concentration of DEET. The more DEET there is in your bug repellent, the longer it will last.
If you're sitting on your patio or outside your house with your kids playing nearby, consider investing in some bug repellent candles to light. It helps create a relaxing environment, and it protects everyone surrounding it.
2. Pick Your Clothing Carefully
Clothing is an important tool is fighting against summer bugs, especially if your kids love to explore through heavily wooded areas. Make sure your kids wear long pants and long-sleeved shirts when they'll be around such places.
Pick out shirts with neutral tones or encourage your children to avoid wearing brightly colored clothing. Those colors attract insects, as does lots of perfume or other fruity smelling beauty products. Wearing those two things may encourage bugs to get too close for comfort.
3. Watch Where You Walk
Did you know that insects, especially mosquitoes, love to gather around pools of water? Or that ticks hide in areas with lots of brush and trees? Teach your children to avoid playing in these areas if at all possible, and, if you know your kids were around those kinds of locations, be extra vigilant in checking them for bugs or bite marks.
4. Check for Ticks
Ticks can the scariest summer-time bugs, because they carry diseases like Lyme Disease or even make people allergic to red meat. However, there are a few steps you can take to make sure ticks aren't sticking to your children. If you know your kids have been playing in areas know to hide ticks, make sure they bathe or shower quickly after. This could wash away any ticks that might have stuck on.
Stay vigilant by doing several full body checks throughout the summer. If you do find a tick on your child's body, make sure to grab some tweezers to remove them as soon as possible. Follow this guide for removing ticks to make sure you do it properly.
5. Post Bite Care
Sometimes, insect bites are just unavoidable. But, there are plenty of ways to make the pain and itching more bearable, especially for your children who may be crying and in pain. Apply an ice pack to a bite or elevate the area of the mark to help with the redness and swelling. Invest in some anti-itch medication, and grab some colorful band aids to help your kids feel better about their bites. You can also use nonprescription pain killers for those stings that are really bad.
If your child has never been bit or stung before, observe them closely to see how they might react. Read the signs of a more serious allergic reaction to bug stings so you understand if they are happening to your child.
Bug bites can be an unavoidable part of the summer. If you are worried about how your child might react to potentially bee stings or have any other questions, schedule an appointment with a SouthCoast Health Family Medicine Physician.
---
Whether you are looking for a primary care doctor or a pediatrician, or another medical specialist, SouthCoast Health has you covered with its wide range of world-class healthcare services, available throughout the Coastal Empire and Lowcountry. Founded in 1996, SouthCoast Health has 120 physicians and medical professionals in 17 locations in Savannah, Richmond Hill, Pooler, Rincon, Baxley, Bluffton, Hilton Head, Hinesville, and Statesboro. SouthCoast Health offers comprehensive medical services including: Family Medicine, Internal Medicine, Pediatrics, Allergy and Immunology, Cardiology, Endocrinology, Eye Care, Imaging, Infectious Diseases, Nephrology, Neurology, Physical Therapy, Podiatry, Sleep Medicine, Surgery, Clinical Trial Research Studies, Diabetic Self-Management Training Sessions, Dietetic Counseling, High Risk Breast Cancer Clinic, Laboratory Services, Massage Therapy, Optical Shop, Pharmacy, and Urgent Care.