Nurse Practitioner Dawn Mace Uses Education to Benefit Patients
Wednesday, May 9, 2018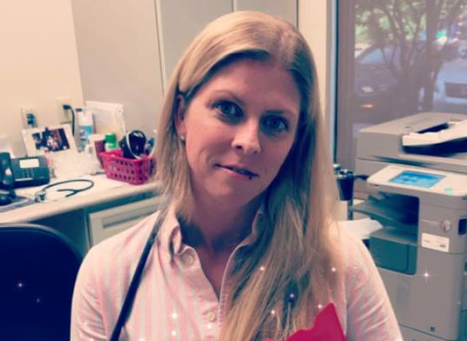 In honor of #NationalNursesWeek, SouthCoast Health is celebrating all of our incredible nurses. To do just that, we'll be spotlighting just a few of the many hard-working members of our staff. First up is Nurse Practitioner Dawn Mace.
NP Dawn Mace started working at SouthCoast Health in 2008 as a part-time registered nurse for Dr. Richard Hightower. When she received the full-time position for this role, Dawn began to realize how much she loved being a nurse and also being a force of change in her patients' lives.
"I love keeping healthy people healthy and helping those who aren't at their best," Dawn said. "It's a magical feeling being advocates for all of my patients in their health and their future."
While she has many stories of patients positively impacting her, she remembers in particular a patient who was overweight and not eating well. At the young age of 40, this patient was facing diabetes and a grim future. While many SouthCoast Health professionals tried their best to tell this patient he was on a fast-downward spiral, it was Dawn who was finally able to connect. After this, Dawn realized just where her gifts lied.
After being a nurse for 18 years, Dawn felt a deeper call to work more hands-on with her patients instead of assisting one of our many doctors. To be able to play more of a healing role instead of also balancing administrative tasks such as scheduling next appointments, she would need to go back to school. Dawn wanted to spend more time bettering her patients' lives, so off to school she went.
She earned her Master of Science and Family Nurse Practitioner Program degree from Simmons College in Boston, Massachusetts. In addition to this, she's board certified by the American Association of Nurse Practitioners and an active member of the Georgia Nurses Association and Long-Term Care Nurses Association.
Her favorite accomplishment, though, is working with SouthCoast Health.
"SouthCoast Health is a wonderful place to work," Dawn explained. "The teamwork, my co-workers, and the physicians I work with make every day such a pleasure."
Outside of work, Dawn loves to go to the beach, play soccer, and hang out with her two boys. Join us in appreciating Nurse Practitioner Dawn Mace!
---
Whether you are looking for a primary care doctor or a pediatrician, or another medical specialist, SouthCoast Health has you covered with its wide range of world-class healthcare services, available throughout the Coastal Empire and Lowcountry. Founded in 1996, SouthCoast Health has 120 physicians and medical professionals in 17 locations in Savannah, Richmond Hill, Pooler, Rincon, Baxley, Bluffton, Hilton Head, Hinesville, and Statesboro. SouthCoast Health offers comprehensive medical services including: Family Medicine, Internal Medicine, Pediatrics, Allergy and Immunology, Cardiology, Endocrinology, Eye Care, Imaging, Infectious Diseases, Nephrology, Neurology, Physical Therapy, Podiatry, Sleep Medicine, Surgery, Clinical Trial Research Studies, Diabetic Self-Management Training Sessions, Dietetic Counseling, High Risk Breast Cancer Clinic, Laboratory Services, Massage Therapy, Optical Shop, Pharmacy, and Urgent Care.