How Smart Devices Raise Our Children
Wednesday, June 6, 2018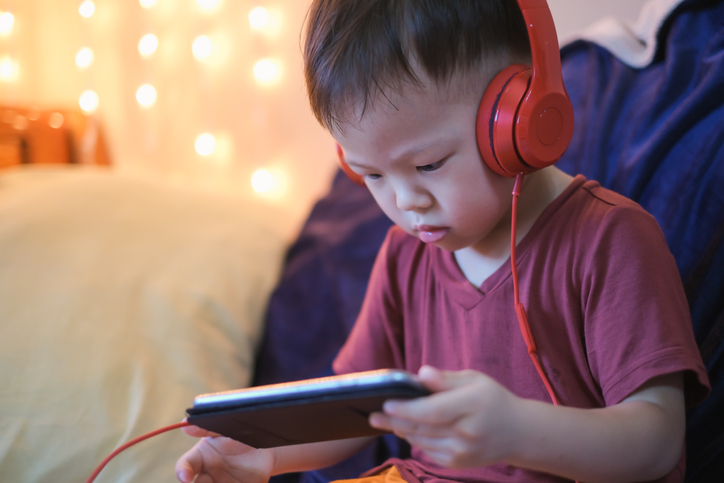 As technology progresses, so does our attachment to it. To raise awareness of the effects this technology use can have on our health, we're excited to share a blog series discussing this topic. This blog is the latest installment in that series, but review our other blogs if you'd like to learn about how technology affects our nutrition, posture, and brains.
---
Whether they're playing video games or watching TV during snack time, it seems like children are using technology more and more each year. While it's wonderful to see so many powerful learning tools being created for children with this technology, it's also important to be aware of the negative side effects chronic technology use can have on developing bodies and minds.
"Technology has changed how most of us live, but it's especially clear that it's changing how children grow and interact with the world," SouthCoast Health Pediatrician Dr. William Webb explained. "Some apps are fantastic for instructing our children in ways we cannot, however, there is also a clear place where children aren't learning and growing as they use to due to the distraction of their devices."
In this next installment of our technology blog series, we're discussing the negative effects that technology can have on our children.
Rise in Childhood Obesity
Arguably one of the biggest negative side effects is that technology can often encourage an inactive lifestyle. Kids want to come home after sitting at school most of the day to then sit on the couch to play video games or watch TV. In reality, most kids should be using this time for active play that provides the daily exercise they need. With less and less time spent outdoors, many experts say this is what is leading to the alarmingly rising numbers of childhood obesity. Furthermore, the more time kids spend outside underneath the sun, the more Vitamin D they're able to absorb. This is essential as Vitamin D helps to fight infections and keep skin healthy.
Unfortunately, childhood obesity has become a nation-wide problem. Child obesity rates have drastically risen the past several decades, and still continue to rise today.
Trouble with Bed Time? Technology May be to Blame
As with adults, technology use can affect our children's sleep habits. The blue light that comes from our devices not only leads to eye strain and other eye problems, but it can also cause major disturbances to sleep cycles if used too late in the day. Another reason for your kids to put down the iPad and play outside is that sun exposure can help regulate sleep cycles by producing more melatonin in the body.
This means that when kids spend too much time with technology, their sleep suffers twice as much. In addition to not getting enough sunlight to encourage healthy sleep cycles, the blue light is affecting their brain's ability to shut down for sleep. If you're worried your child may be impacted in this way, keep an eye out for pattern behaviors of inability to fall asleep, waking up during the middle of sleep cycles, and overall grogginess.
Does Screen Time Impact Cognitive Development?
Chronic use of computers, TVs, iPads, and other technology at a young age can negatively impact a child's cognitive development and ability to focus. Visual mediums like computers and TVs train the mind to spread their attention over a wide variety of things all at once but at a shallow depth. On the other hand, non-digital activities like reading and board games train the mind to focus in on one thing and process it more deeply. Because of this, reading is shown to develop a child's reflection, critical thinking, problem-solving, and vocabulary skills. Reading to your children also engages them in a social conversation rather than only passively looking at a screen. Studies have indicated the more time children use hand-held devices, the greater potential for expressive language delay.
So when excessive TV and computer time cuts into these opportunities for development through activities like reading, parents are likely to see adverse effects like issues with focusing, thinking creatively, and problem-solving.
Technology Isn't All Bad!
No need to throw out your family TV and computer. In fact, technology in moderation can help your child grow and develop in ways more traditional forms of learning and entertainment cannot. As with most things, there is a balance to strike. Here are a few tips to help you find that perfect balance:
Set daily limits for how much screen time your children can have daily. When deciding on these limits, be sure to consult The American Academy of Pediatrics recommendations for media use based on age.
If they are old enough, speak to them to see what they would like and reflect on their schedule. Some kids who get to spend their designated time on technology right after school get their fix in and are ready for other activities, such as playing outside. Encourage them to spend their designated technology time on meaningful things, like learning or creative apps that challenge their level of thinking.
Spend more time reading. Especially if your child is having trouble focusing, they may need more time doing things that encourage their ability to focus on one task, like reading.
Be strict on when they use their technology in relation to bedtime. Don't let the blue light affect their sleep cycles.
Communicate with them on these issues. If they're upset about lack of technology use, explain the problems they may encounter later down the road.
Lead by example. Try to limit your own time spent on technology and encourage them to play outside by going right out there with them.
Schedule more play dates with friends and encourage them to do things together aside from playing on their phones or computer.
If you have additional questions or concerns about how technology is affecting your child, give us a call at 912-691-3600 to schedule an appointment to meet or speak with a member of our pediatrics team.
---
Whether you are looking for a primary care doctor or a pediatrician, or another medical specialist, SouthCoast Health has you covered with its wide range of world-class healthcare services, available throughout the Coastal Empire and Lowcountry. SouthCoast Health has 120 physicians and medical professionals in 18 locations in Savannah, Richmond Hill, Pooler, Rincon, Baxley, Hilton Head, Hinesville, and Statesboro. SouthCoast Health offers comprehensive medical services including: Family Medicine, Internal Medicine, Pediatrics, Allergy and Asthma, Cardiology, Endocrinology, Eye Care, Imaging, Infectious Diseases, Nephrology, Neurology, Physical Therapy, Podiatry, Sleep Medicine, Surgery, Clinical Trial Research Studies, Diabetic Self-Management Training Sessions, Dietetic Counseling, Laboratory Services, Massage Therapy, Optical Shop, Pharmacy, and Urgent Care.