The Importance of Vaccinations
Wednesday, June 26, 2019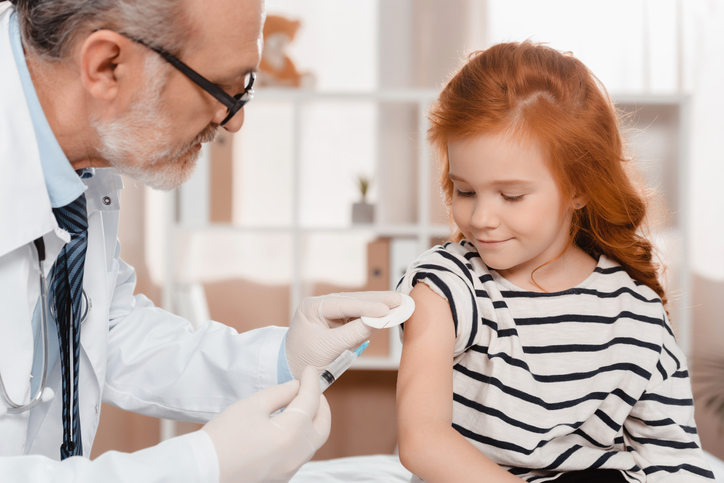 In 1992, the United States faced a major health epidemic. In that year alone, there were 963 reported cases of measles, a viral infection that is extremely serious for children when contracted. Symptoms include cough, runny nose, inflamed eyes, sore throat, fever, and a red skin rash. Once contracted, there is no treatment. However, measles is 100% preventable when children are given the proper vaccination.
In 2019, eight more cases have been reported than what happened in 1992. That's a total of 971 cases reported for just the first half of 2019. Six of those cases came from the state of Georgia. If our country continues at this alarming rate, the CDC has warned us that the United States will lose its measles elimination status. That means measles would be considered endemic in the country for the first time in a generation.
What's causing this epidemic to hit? The answer is lack of vaccinations due to wide-spread misinformation.
Recently, vaccinations have become a subject of large public debate. While some parents believe that there are numerous negative side effects of vaccinations, beliefs like this aren't supported by scientific fact or reasoning. The bottom line is that vaccinations are a wonderful, modern feature that benefits the health and life of children.
"Parents want to do their best to keep their children happy and healthy," SouthCoast Health Pediatrician Dr. Amanda Hendricks stated. "The hands down number one way to do this is through vaccinations."
Keep reading below to understand the benefits of vaccinations and why it's vital to ensure your children are up to date no matter their age.
Reasons to Vaccinate Your Children
To start, we're explaining the numerous benefits that vaccinations provide for your children. Here are just a few.
They protect your children from serious illnesses such as mumps, tetanus, yellow fever, and tuberculosis.
They prevent complications from diseases that have severe side effects such as amputations of limbs, paralysis, hearing loss, convulsions, brain damage, and death.
They help to protect children from diseases commonly caught during traveling or from others who have been traveling, especially out of the country.
They save other children from outbreaks of these preventable diseases. When large numbers of parents decide to not vaccinate, it causes more outbreaks to occur.
They keep others who are more at risk for developing diseases safe, such as cancer patients or the elderly.
Vaccine Myths
Unfortunately, despite these scientifically proven benefits of vaccination, myths about negative side effects do still exist. Here are some of the most prevalent vaccine myths.
Too many vaccines overwhelm the immune system: Some parents worry that the large number of vaccinations needed over a short period of time could make their child sick instead of protecting them. However, there are no negative side effects that develop from numerous vaccines in a short period, just as there are no positive benefits in waiting or spreading out the vaccines more. Parents should follow the standard, recommended schedule for pediatric vaccinations recommended by their pediatrician.

Vaccines cause autism. While this is a very politically charged topic, there is absolutely no evidence for a correlation between vaccines and autism in children. While it isn't clear what exactly causes autism, the idea that vaccinations cause autism arose because certain parents and medical professionals begin to notice the signs of autism around the time for routine vaccinations. However, there are no ingredients in vaccines that develop autism. It's just the timing of when the first signs start to arise.
In order for the general public to be able to use vaccination, they have to go through a rigorous approval process guided by scientists and medical professionals. Because of this, vaccinations are completely safe. The SouthCoast Health team encourages all community members and their families to receive all vaccinations prescribed by their primary care physician.
If you have additional questions or would like to discuss this topic with one of our pediatric experts, give us a call at 912-691-3600.
---
Whether you are looking for a primary care doctor or a pediatrician, or another medical specialist, SouthCoast Health has you covered with its wide range of world-class healthcare services, available throughout the Coastal Empire and Lowcountry. SouthCoast Health has 120 physicians and medical professionals in 18 locations in Savannah, Richmond Hill, Pooler, Rincon, Baxley, Bluffton, Hilton Head, and Hinesville. SouthCoast Health offers comprehensive medical services including: Family Medicine, Internal Medicine, Pediatrics, Allergy and Immunity, Cardiology, Endocrinology, Eye Care, Imaging, Infectious Diseases, Nephrology, Neurology, Physical Therapy, Podiatry, Sleep Medicine, Surgery, Clinical Trial Research Studies, Diabetic Self-Management Training Sessions, Dietetic Counseling, High Risk Breast Cancer Clinic, Laboratory Services, Massage Therapy, Optical Shop, Pharmacy, and Urgent Care.