Is Stress Making You Sick?
Monday, June 24, 2019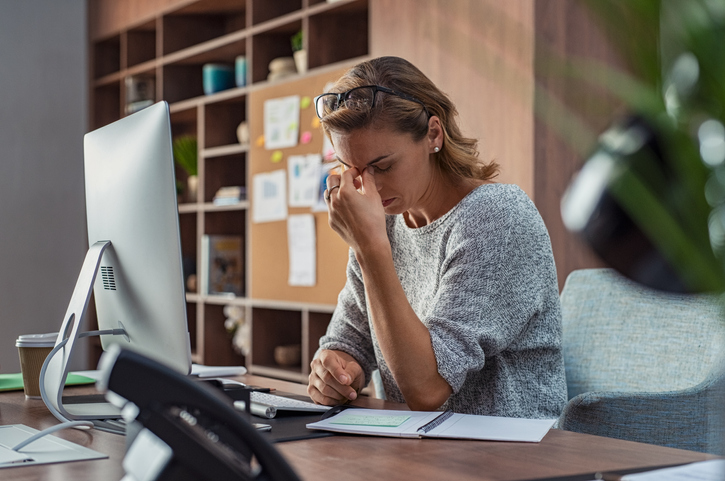 Everyone experiences stress at some point in their life. Whether it's from work or personal matters, stress doesn't just impact your mental state. It can have severe impacts on your physical health as well.
Data shows that 77% of people in America regularly experience physical symptoms caused by stress. Depending on the person, these physical symptoms could manifest as headaches, stomach issues, muscle strain, and even more severe health complications.
SouthCoast Health is proud to offer a wide range of medical specialties who can help connect the dots on how stress might be impacting your physical health.
"When you are under stress, your body releases adrenaline, which increases your heart rate and blood pressure. This response places you at higher risk for heart attack and stroke. Stress management can help alleviate some of these risks and promote a healthier lifestyle."
- Dr. Daniel Osimani, Cardiologist
"Unfortunately, stress can increase inflammation from allergies and make allergic conditions like asthma more difficult to control. This is partly because stress hormones produced by the brain and adrenal glands under stressful situations magnify the effects of allergen exposure on our respiratory tracts, and also make allergy and asthma treatments less effective. Additionally, stress hormones decrease the ability of our immune system to fight diseases. Stressed people more often get respiratory infections and can take longer to recover from them, for example."
- Dr. Wasil Khan, Allergist and Immunologist
"We all experience stress differently, but problems with your digestive system is a common symptom. Whether it's an upset stomach, diarrhea, or constipation, stress often impacts the way food moves through your body. And, if your stress stays around for a long time, so will your digestive issues."
"When you're stressed out, your brain sends your body signals to help keep it safe and protected in case an emergency situation is happening. This is certainly true for your muscles, which tense up and get ready to spring into action with any sign of stress. However, when you stay stressed out, your muscles don't relax. This can lead to headaches, back and shoulder pain, body aches, and other common muscle pain."
- Lisa Bettio, Physical Therapist
These are only some of the physical issues that can be caused by stress. If you're dealing with chronic stress, or think stress may be making you sick in some way, it's important to seek medical help. Click here to schedule an appointment with a SouthCoast Health medical expert today.
---
Whether you are looking for a primary care doctor or a pediatrician, or another medical specialist, SouthCoast Health has you covered with its wide range of world-class healthcare services, available throughout the Coastal Empire and Lowcountry. SouthCoast Health has 120 physicians and medical professionals in 18 locations in Savannah, Richmond Hill, Pooler, Rincon, Baxley, Hilton Head, Hinesville, and Statesboro. SouthCoast Health offers comprehensive medical services including: Family Medicine, Internal Medicine, Pediatrics, Allergy and Immunology, Cardiology, Endocrinology, Eye Care, Imaging, Infectious Diseases, Nephrology, Neurology, Physical Therapy, Podiatry, Sleep Medicine, Surgery, Clinical Trial Research Studies, Diabetic Self-Management Training Sessions, Dietetic Counseling, Laboratory Services, Massage Therapy, Optical Shop, Pharmacy, and Urgent Care.