Cancers that Endocrinology Discovers and Treats
Thursday, August 1, 2019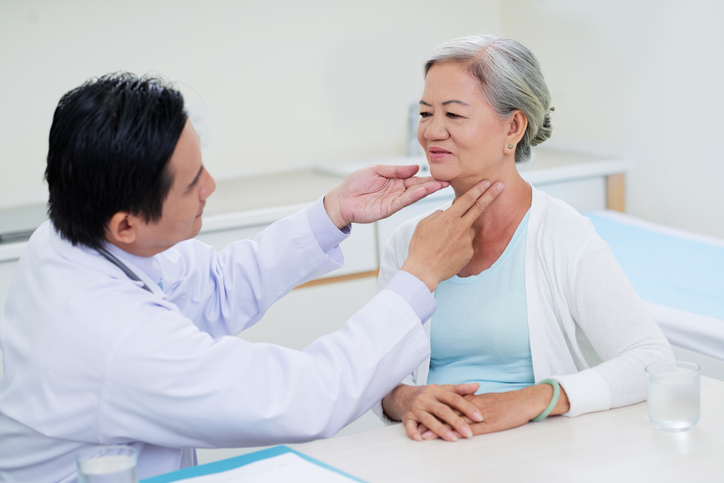 When it comes to discovering endocrine cancers in a patient, the scope of what that could entail is vast. Since endocrine cancers are defined by the gland that they start in, there are multiple possibilities of where they can manifest.
"Endocrine cancer is really complex," SouthCoast Health Endocrinologist Dr. Abby Abisogun stated. "As a reminder, endocrinologists are trained to work with hormones and the glands that they come from, otherwise known as the endocrine system. Our scope is far and wide, which makes our experience as diverse."
We're discussing the most common endocrine cancers and how SouthCoast Health can help any of our patients battling those diseases.
What is Endocrine Cancer?
As mentioned above, the endocrine system consists of glands in your body that produce hormones and send them into the blood. Just a couple of examples of these glands are the pancreas, adrenal glands, and the thyroid glands.
Endocrine cancer is when cancer develops in any of those glands. The good news is that endocrine cancer is rare. For example, pancreatic neuroendocrine tumors will happen to only 3,900 people in the United States this year, making up to less than 2% of all cancers that occur to people in the pancreas. Since it's such a broad list of possible cancers, the causes and symptoms range for each type.
Overall, there are two cancers that are the most common when it comes to endocrine cancers. We'll go into those now.
Thyroid Cancer
The most common type of endocrine cancer is thyroid cancer, and it occurs when cancerous cells form in the tissues of the thyroid gland. An estimated 52,070 adults in the US will be diagnosed this year, and it's important to note that thyroid cancer is the sixth most common cancer in women. The first sign of this is a lump in your thyroid that you or your doctor might notice during your annual physical. From there, an ultrasound or biopsy will discover if the lump is cancerous or not.
There are two major types of thyroid cancer. The first is differentiated thyroid cancer, which also has three subtypes. Well-differentiated can be treated and cured. Poorly differentiated and undifferentiated tumors are, unfortunately, less common, and spread very quickly with a smaller chance of being cured.
The second type of thyroid cancer is medullary thyroid cancer, which is a tumor that develops in the C cell of the thyroid.
The biggest risks for thyroid cancer are as followed:
Females
Aged 25 - 65
Exposed to radiation
Family history
Genetic conditions such as familial medullary thyroid cancer
Asian heritage
Depending on the stage of cancer and the person's risks, there are several available options for treatment. Surgery, radiation therapy, chemotherapy, thyroid hormone therapy, and immunotherapy are all common treatments.
Dr. Christa L. Jillard is SouthCoast Health's Endocrine Cancer Surgeon should that treatment option be best for any patient.
"Endocrine cancer surgery is an extremely specialized department that I am proud to be involved with. It's intellectually stimulating, and I'm also able to work one-on-one with my patients and their primary care physicians or endocrinologists in a way that drives success and high-quality care to all of my patients," Dr. Jillard said.
Pancreatic Cancer
Pancreatic cancer occurs when cells in the pancreas grow and divide too fast, forming a tumor in that area. Since the pancreas is a gland that controls digestion and hormones in blood-sugar levels, cancer here can have disastrous effects. In 2019, about 56,000 people in the United States are expected to be diagnosed with pancreatic cancer. It's also the ninth most common cancer diagnosed in women and the 10th for men.
It's important to note that while endocrinologists are usually the first one to discover this kind of cancer in patients, they are not the ones to treat it. Once a patient is discovered to have pancreatic cancer, the patient is sent to an oncologist.
Just like thyroid cancer, there are two main types of pancreatic cancer: exocrine or endocrine tumors. It all depends on what type of cell they begin in. About 93 percent of pancreatic cancers are exocrine tumors, and these usually start in the ducts of the pancreas. Endocrine tumors are much less common and can be functioning or non-functioning. Functioning tumor makes hormones, while the non-functioning don't.
If people have any of these characteristics, then they have a higher risk of pancreatic cancer:
Diabetes
Smoking
Over the age of 60
Diets high in red and processed meats
Obesity
Family history
Males
Chronic or hereditary pancreatitis
African American or Ashkenazi Jew heritage
There are several symptoms that occur for those who have pancreatic cancer, such as pain in the abdomen, weight loss, diabetes, changes in stool, nausea, and loss of appetite.
Unfortunately, the prognosis on this kind of cancer is very poor. While survival rates for this cancer continue to improve decade to decade, the one-year relative survival rate is 20%, and the five-year rate is 7%.
Rarer Types of Endocrine Cancer
While it's hard to uncover information about the rarer kinds of endocrine cancers, they do exist. In that list is pituitary gland tumors, multiple endocrine neoplasia 1 and 2, parathyroid gland tumors, and adrenal gland tumors.
If you have any more questions about your endocrine system, feel free to schedule an appointment with our practice to ask our expert endocrinologist.
---
Whether you are looking for a primary care doctor or a pediatrician, or another medical specialist, SouthCoast Health has you covered with its wide range of world-class healthcare services, available throughout the Coastal Empire and Lowcountry. SouthCoast Health has 120 physicians and medical professionals in 18 locations in Savannah, Richmond Hill, Pooler, Rincon, Baxley, Bluffton, Hilton Head, and Hinesville. SouthCoast Health offers comprehensive medical services including: Family Medicine, Internal Medicine, Pediatrics, Allergy and Immunity, Cardiology, Endocrinology, Eye Care, Imaging, Infectious Diseases, Nephrology, Neurology, Physical Therapy, Podiatry, Sleep Medicine, Surgery, Clinical Trial Research Studies, Diabetic Self-Management Training Sessions, Dietetic Counseling, High Risk Breast Cancer Clinic, Laboratory Services, Massage Therapy, Optical Shop, Pharmacy, and Urgent Care.