Playing The Cards Best You Can: Thyroid Cancer Patient Success Story
Tuesday, March 17, 2020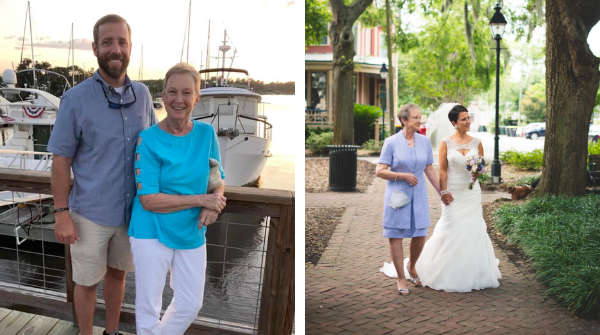 Being proactive likely saved 72-year-old Pamela Solari's life.
Pamela, a former retail store auditor, and her husband Jim relocated from New England to South Carolina. By the early 2000s, they were living the dream, enjoying a retirement filled with passionate gardening and rounds of golf.
In 2006, while seeking medical help for kidney failure, Pamela noticed swollen nodules on her neck. She learned she had thyroid cancer. A pair of surgeries followed, resulting in the removal of her entire thyroid gland and radioactive iodine treatment.
"I already had the rug pulled out from me with kidney failure," she says. "So I was just kind of numb at the time. When you're dealt a hand like that, you play those cards the best you can."
And that's what she did. Approximately each year, Pamela would receive a body scan, keeping tabs on cancer's possible return. And for 13 years, all remained clear.
After her husband passed away, Pamela relocated to Richmond Hill in 2019 to be closer to family. Her primary care physician, SouthCoast Health's Dr. Regina Dandy, referred her to our endocrinologist Dr. Abby Abisogun for continuation of care of her prior history of thyroid cancer. An ultrasound performed by Dr. Abisogun herself revealed suspicious areas, which led to needle biopsies. The latter provided an unwelcome answer: cancer was back.
"I very much appreciated Dr. Abisogun handling the procedures herself in order to see the results firsthand," Pamela says.
With at least three lymph nodes proving to be cancerous, Dr. Abisogun suggested surgery. A bilateral modified radical neck dissection would call for an incision from one ear lobe down to the shoulder, across the bottom of the neck, and up to the other ear lobe.
"It can be devastating for a person to hear that her cancer has come back," Dr. Abisogun says. "But she received the news with such strength, grace, and optimism that I knew she would be fine. She has faced her challenges head on and maintained a positive attitude throughout. I am proud to be her doctor."
Pamela chose Dr. Christa Jillard, an endocrine surgeon with SouthCoast Health, to perform the procedure. "I had a terrific instant connection with Dr. Jillard," says Pamela. "It was refreshing having a female doctor, and I appreciated the way she explained everything. It was all good."
The radical surgery included the removal of 57 lymph nodes, which uncovered seven to be malignant. Yet, more challenges laid ahead. Throughout her recovery, Pamela faced the anticipated challenges of recuperating from such a lengthy and involved surgery, including numbness in her ears and jaw, limited use of her arms, and pain.
"Ms. Solari was a trooper," says Dr. Jillard. "She underwent an extensive surgery, and she hit the challenges of recovery dead on. Her positive attitude and commitment to her own health, before and after surgery, are a testament to her success story."
Pamela's continued diligence is paying off. Through physical therapy, her arms are now functioning properly, and recent ultrasounds show no cancer to be found. She's back in the yard, knee deep in landscaping an array of flower beds, home to annuals and perennials, and ornamental grasses.
As her own persistence in seeking medical help leads her down the road of recovery, Pamela suggests others do the same in order to potentially stop a threatening diagnosis in its tracks. "If you're concerned about something, get it checked out immediately," she says. "You've got nothing to lose by checking it out. If you stay proactive and get on top of these things before they take over, you stand a better chance of overcoming them."
---
Whether you are looking for a primary care doctor or a pediatrician, or another medical specialist, SouthCoast Health has you covered with its wide range of world-class healthcare services, available throughout the Coastal Empire and Lowcountry. SouthCoast Health has 120 physicians and medical professionals in 18 locations in Savannah, Richmond Hill, Pooler, Rincon, Baxley, Bluffton, Hilton Head, and Hinesville. SouthCoast Health offers comprehensive medical services including: Family Medicine, Internal Medicine, Pediatrics, Allergy and Immunity, Cardiology, Endocrinology, Eye Care, Imaging, Infectious Diseases, Nephrology, Neurology, Physical Therapy, Podiatry, Sleep Medicine, Surgery, Clinical Trial Research Studies, Diabetic Self-Management Training Sessions, Dietetic Counseling, High-Risk Breast Cancer Clinic, Laboratory Services, Massage Therapy, Optical Shop, Pharmacy, and Urgent Care.