Cold Got You Down? Best Ways to Keep Going
Monday, May 4, 2020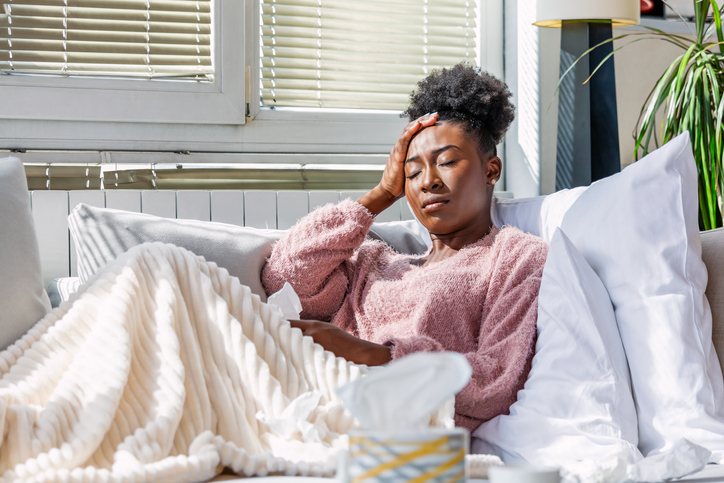 Since the average adult experiences about two to three colds per year, it's hard to track down the exact number of cases every passing year. But, it is a commonly known fact that winter and spring are the most popular times for colds to appear.
"Not only is a cold common, but it can also be really annoying to experience," SouthCoast Health Family Physician Dr. William Knight stated. "While you may not feel your best with a cold, you could be, in theory, feeling fine enough to be stressed out about falling behind on your goals. But having a stuffy nose or watery eyes may decrease your productivity. We often see patients desperate for some sort of relief so they can get back on their feet as quickly as possible."
If this sounds like you, keep reading below to learn how a common cold doesn't have to stop you.
Keep Yourself Going Even with a Cold
If you've got things to do and places to be, having a cold can be one of the worst things for your productivity levels. Here are some tricks you might find helpful:
*Before following any of the steps below, it is vitally important you've already seen a doctor to ensure you are properly diagnosed and medicated to prevent the spread of illness.*
Supply up. Got a nasty cough? What about some stuffiness that makes it hard to breathe? Grab some over-the-counter medications that are known to help. Cough drops, eye drops, popular medicine. Whatever you need to keep annoying symptoms at bay, prepare yourself by bringing a small stockpile with you wherever you need to go.

Forgive yourself. There's no way around it; you just won't be as productive at work with a cold as you would if you were feeling 100% yourself. That being said, don't be hard on yourself. Let go of crossing off as many things as you usually do.

Rest and relax. After a hard day of work, it's very important to give your recovering body the rest it needs. That means doing nothing after work if you can help it. Bundle up in bed with some soup, take a hot bath to rewind, and hit the hay as early as possible. Your body will thank you if your social calendar and hobbies wind down during your cold.

If possible, stay at home. In today's world, most jobs are able to be completed at home with a good internet connection and a computer. If it is possible, try and stay at home to work. It maximizes your rest time while also remaining as productive as possible.

Eat well. Fill your body with nutrition that will help you recover. Avoid processed things, don't drink alcohol, and go for bright and colorful veggies, fruit, and proteins.
If you have any more questions about staying productive with a cold or would like to speak with a family physician about the common cold, give us a call at 912-691-3600 or click here to schedule an appointment.
---
Whether you are looking for a primary care doctor or a pediatrician, or another medical specialist, SouthCoast Health has you covered with its wide range of world-class healthcare services, available throughout the Coastal Empire and Lowcountry. SouthCoast Health has 120 physicians and medical professionals in 18 locations in Savannah, Richmond Hill, Pooler, Rincon, Baxley, Hilton Head, Hinesville, and Statesboro. SouthCoast Health offers comprehensive medical services including: Family Medicine, Internal Medicine, Pediatrics, Allergy and Immunology, Cardiology, Endocrinology, Eye Care, Imaging, Infectious Diseases, Nephrology, Neurology, Physical Therapy, Podiatry, Sleep Medicine, Surgery, Clinical Trial Research Studies, Diabetic Self-Management Training Sessions, Dietetic Counseling, Laboratory Services, Massage Therapy, Optical Shop, Pharmacy, and Urgent Care.