Dr. K. Blaine Crosland Appears on WTOC's Morning Break for Summer Safety Tips During COVID-19
Thursday, July 9, 2020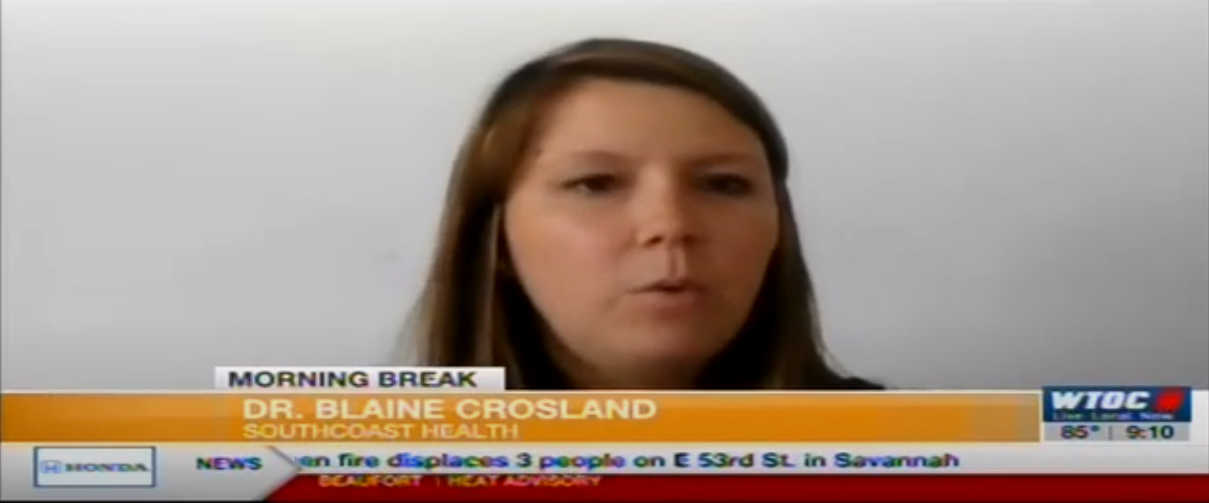 SouthCoast Health pediatrician, Dr. K. Blain Crosland shared suggestions to think through before you participate in those classic summer family activities to prevent contracting or spreading coronavirus on WTOC-TV's Morning Break.
"We do think that it's less likely to spread in an outdoor environment," said Dr. Crosland. "There's a couple reasons for that. First, you can just get more distanced outside. Secondly, you're not recirculating air like indoors with A/C."
Along with wearing masks and practicing social distancing when possible, watch Dr. Crosland's appearance below to learn more about keeping safe during this COVID-19 summer.
---
Whether you are looking for a primary care doctor or a pediatrician, or another medical specialist, SouthCoast Health has you covered with its wide range of world-class healthcare services, available throughout the Coastal Empire and Lowcountry. SouthCoast Health has 120 physicians and medical professionals in 18 locations in Savannah, Richmond Hill, Pooler, Rincon, Baxley, Hilton Head, Hinesville, and Statesboro. SouthCoast Health offers comprehensive medical services including: Family Medicine, Internal Medicine, Pediatrics, Allergy and Immunology, Cardiology, Endocrinology, Eye Care, Imaging, Infectious Diseases, Nephrology, Neurology, Physical Therapy, Podiatry, Sleep Medicine, Surgery, Clinical Trial Research Studies, Diabetic Self-Management Training Sessions, Dietetic Counseling, Laboratory Services, Massage Therapy, Optical Shop, Pharmacy, and Urgent Care.