The Importance of Sun Protection
Tuesday, August 24, 2021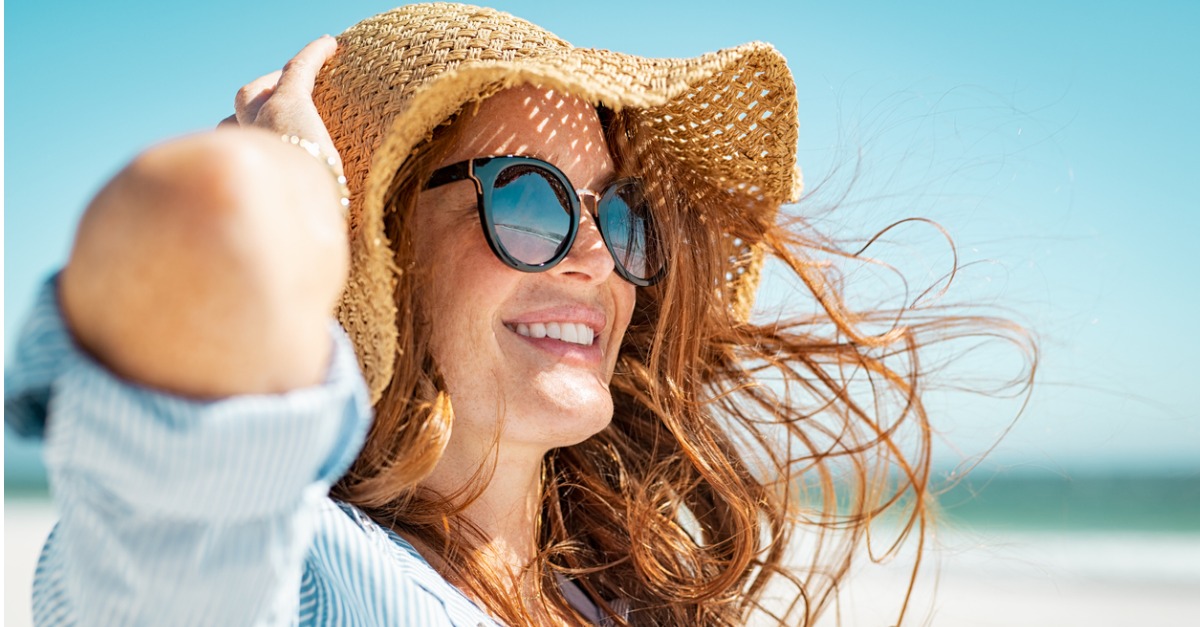 Though the sunlight hours have shortened since summer solstice in June, there's still plenty of time for ample sun exposure. But excess sunlight (particularly its harmful UV rays) can lead to skin cancer, the most common — and most preventable — form of cancer in the U.S.
Fair skin that burns easily, blue or green eyes, blonde or red hair, and older age are also some common risk factors for skin cancer, but it can develop in people of any skin color.
At SouthCoast Health, we care about your wellness from head to toe — and that includes your skin!
What to Watch Out For
There are three main types of skin cancers, each with their own unique characteristics: basal cell carcinoma, squamous cell carcinoma, and melanoma. Consultation with your doctor or a dermatologist can help you identify concerning areas, but remember the ABCDEs of melanoma to help spot early warning signs:
A – Asymmetry of shape
B – Borders that are scalloped or uneven
C – Coloration involving multiple hues
D – Diameter larger than a pencil eraser, or a darker tone than other moles
E – Evolving size, shape, and color, or changes in bleeding or itching.
Protection = Prevention
Shade
Keeping out the most intense sunlight will protect your skin. Experts at the American Skin Association recommend going indoors or finding a shady spot during the brightest parts of day, which is usually between 10 AM and 2 PM.
Sunscreen
Even on cloudy days, harmful UV rays can bounce from water, glass, and sand surfaces to reach your skin. Making a habit of wearing sunblock year-round can be one of the best methods of protection.
When choosing your sunscreen, The Skin Cancer Foundation recommends looking for broad spectrum coverage, with an SPF of 15 or higher. The MD Anderson Cancer Center meanwhile advises one with both UVA and UVB protection, and SPF 30 or higher.
How much should you be using? The Skin Cancer Foundation recommends "the equivalent of a shot glass (two tablespoons) of sunscreen to the exposed areas of the face and body – a nickel-sized dollop to the face alone." If your sunscreen comes in spray form, keep applying until you've got an even sheen.
Clothes & Other Coverings
Hats, sunglasses, swim shirts, and umbrellas can also provide significant protection.
"Long-sleeved shirts, long pants, or long skirts cover the most skin and are the most protective," according to the American Cancer Society. "Dark colors generally provide more protection than light colors. A tightly woven fabric protects better than loosely woven clothing. Dry fabric is generally more protective than wet fabric."
If you're concerned about keeping cool while staying covered, Prevention provides guidance on how to choose sun-protective clothing that won't interfere with summer fun. Clothes made from this type of fabric can keep you from having to reapply sunscreen, or leaving a hard-to-reach spot unprotected.
There are several other practices that can ensure the remainder of your summer stays safe and healthy. For more advice, or to schedule a post-summer checkup, visit our website for an appointment or call 912-691-3600.
---
Whether you are looking for a primary care doctor or a pediatrician, or another medical specialist, SouthCoast Health has you covered with its wide range of world-class healthcare services, available throughout the Coastal Empire and Lowcountry. Founded in 1996, SouthCoast Health has 120 physicians and medical professionals in 17 locations in Savannah, Richmond Hill, Pooler, Rincon, Baxley, Hilton Head, Hinesville, and Statesboro. SouthCoast Health offers comprehensive medical services including: Family Medicine, Internal Medicine, Pediatrics, Allergy and Asthma, Cardiology, Endocrinology, Eye Care, Imaging, Infectious Diseases, Nephrology, Neurology, Physical Therapy, Podiatry, Sleep Medicine, Surgery, Clinical Trial Research Studies, Diabetic Self-Management Training Sessions, Dietetic Counseling, Laboratory Services, Massage Therapy, Optical Shop, Pharmacy, and Urgent Care.