Should My Child Have an Eye Exam? Everything Parents Need to Know About Eye Care
Monday, August 29, 2022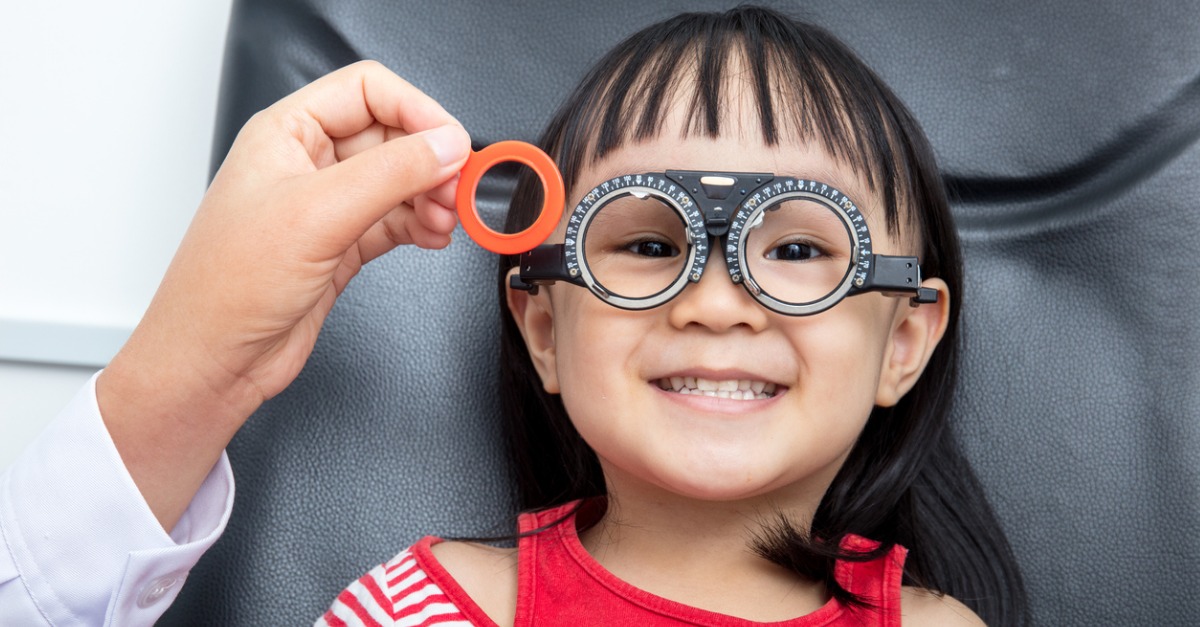 Wellness visits for children begin immediately after birth, with many babies having their first checkup days after being born. Typically, early doctor's visits are all about monitoring a child's growth, providing necessary vaccines, and discussing topics like sleep and safety. Yet, there's another component of preventive wellness for children that sometimes goes overlooked: eye care.
So, does your child need an eye exam, and if so, when should they have one? Here's everything parents should know about eye care for children.
Do Children Need Eye Exams?
Like adults, young children should be receiving regular eye exams. "Eye exams are more than just a way to determine whether your child may need glasses," says SouthCoast Health optometrist, Edward D. Sammons, O.D. "They're also a form of ongoing, preventive care." Some early eye problems, if left undetected and untreated, have the potential to affect vision for a child's lifetime. Diagnosing and addressing an issue early on could prevent it from becoming a condition that's more difficult to treat.
Eye care experts from the American Academy of Ophthalmology recommend that children receive their first screening at birth, and then again at six months to check that their eyes are developing normally. Thereafter, it's a good idea to bring your child for an exam annually.
What About Vision Screenings in Schools?
If you have a school-aged child, they may be receiving routine vision screenings at school. These assessments can help pick up issues that could affect your child's ability to learn, such as nearsightedness or farsightedness. But even if your child's school provides these tests, it's important to schedule comprehensive eye exams as well, to rule out any other eye-related issues.
But don't wait until your child enters kindergarten or grade school to begin eye assessments. According to InfantSEE, a program that advocates for infant eye assessments, one in five preschoolers has vision issues that could interfere with learning and behavior.
What to Expect from Pediatric Eye Exams
During an infant eye exam, pediatricians are looking for functional qualities such as eye focusing skills, depth perception, and color vision. They'll use specific tests to look for eye development, such as a pupil response test which analyzes how your baby's pupils respond to light. The pediatrician will also test your baby's ability to focus on objects as they move, a skill that usually develops by three months. They may also test for preferential looking by attracting their gaze using a series of cards.
As children grow, eye exams become more complex. By the time they're in preschool, eye exams can encompass tests for lazy eye, color vision, ocular health, and visual acuity. Since children are undergoing many developments that call for visual skills, such as writing and reading, eye exams can test for issues that could cause developmental and educational delays if left unaddressed.
Even after their preschool years, children should continue to receive routine eye exams to monitor ocular health and visual developments. If you have a six years old or older child due for an eye exam, schedule an appointment with one of our eye care providers by calling 912-691-3600. SouthCoast Health offers comprehensive care for patients of all ages, including eye care for children and adults, and we'll make sure that the entire process is smooth and comfortable. See our full list of primary care and specialty services online.
---
Whether you are looking for a primary care doctor or a pediatrician, or another medical specialist, SouthCoast Health has you covered with its wide range of world-class healthcare services, available throughout the Coastal Empire and Lowcountry. SouthCoast Health has 120 physicians and medical professionals in 18 locations in Savannah, Richmond Hill, Pooler, Rincon, Baxley, Hilton Head, Hinesville, and Statesboro. SouthCoast Health offers comprehensive medical services including: Family Medicine, Internal Medicine, Pediatrics, Allergy and Asthma, Cardiology, Endocrinology, Eye Care, Imaging, Infectious Diseases, Nephrology, Neurology, Physical Therapy, Podiatry, Sleep Medicine, Surgery, Clinical Trial Research Studies, Diabetic Self-Management Training Sessions, Dietetic Counseling, Laboratory Services, Massage Therapy, Optical Shop, Pharmacy, and Urgent Care.