Is Your Child Afraid of the Doctor's Office? Learn How You Can Help
Thursday, April 21, 2022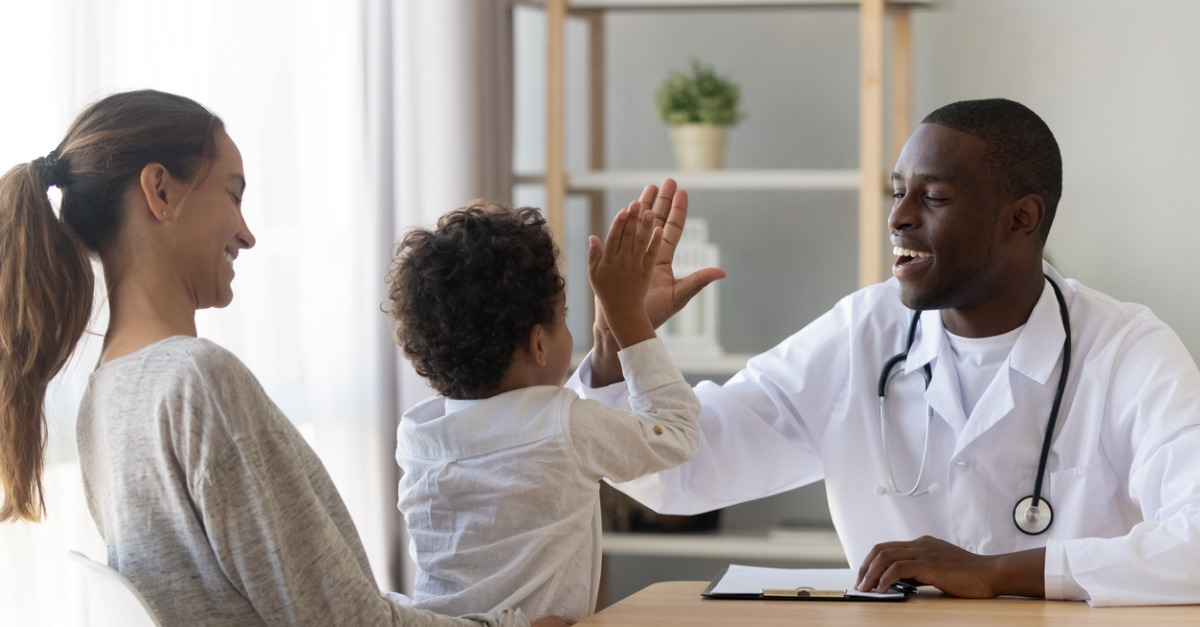 If your child expresses fear when it's time to visit the doctor's office, you're not alone. Half of parents say their preschoolers are afraid of doctors' visits, and one-fifth of parents say they struggle to speak with providers because their children get so upset.
While it's perfectly normal for young children to be nervous about unfamiliar experiences, these fears shouldn't stand in the way of routine checkups or sick visits. Here are some ways you can put your little one at ease before and during their next doctor's appointment.
Explain What to Expect
In children, fears of the unknown are often far worse than the actual experience itself. Psychologist Rachel Busman, Psy.D., notes, "When kids are anxious about going to the doctor, they're often imagining something much worse than what's actually going to happen." Moreover, she explains that children who receive a shot unexpectedly tend to be more anxious than those who have had time to mentally prepare.
Clearly describing ahead of time what to expect may alleviate some of your child's worries. You can explain how a nurse will take their temperature or use a stethoscope to listen to their breathing, for example. If they ask whether they'll receive a shot and you aren't sure, be honest. Tell them that they can ask the nurse when they arrive for their appointment. Remind them the appointment is meant to help them feel better or stay healthy, depending on the reason for the visit.
Validate Their Feelings
According to Margaret Areizaga, PsyD, validating emotions is essential to helping a child control them. "Reducing the intensity of the emotion [with validation] allows them to move through the meltdown faster," she writes, "and it opens your child up to problem solving or pushing through a difficult situation or task."
As an adult who knows that a doctor's visit is not harmful, it can be tempting for you to dismiss your child's fears. Instead, tune in and listen to their concerns. Reiterate what they're saying to show you understand, and explain that it's normal to feel worried before an unfamiliar experience. Remind them that they're safe and that although the appointment may seem scary, they'll be okay and will even feel better afterwards.
Use Make-Believe Play
Alleviate some of the fears around doctor's visits by normalizing the experience with pretend play. Use role-playing activities to act out a checkup or sick visit. Or, act out the appointment with stuffed animals, dolls, or action figures. Those favorite toys may also serve as a welcome distraction when your child is getting a shot or sitting in the waiting room, so feel free to bring a comfort object from home.
Lead by Example
If you have a child who loves to follow in your footsteps, use this as an opportunity to show them how you prioritize your healthcare, too. Schedule routine exams for yourself and others in the family, and talk about how you all go to the doctor's office, too.
Additionally, do what you can to manage your own stress before and during the appointment. "One way to get relief," advises Alisha Bennett, Pediatric Nurse Practitioner at SouthCoast Health, "is to designate a specific time for asking questions." If there are any important matters you'd like to discuss with the doctor, consider bringing another parent or support person along, so you can speak alone with the doctor in private before or after your child is seen.
At SouthCoast Health, our caring pediatricians treat children of all ages, from newborns to age 21, in a welcoming and engaging environment. We offer convenient evening and weekend hours, as well as urgent care walk-in visits. Schedule an appointment by calling 912-691-3600 or visit us online. Our integrated care system ensures that every individual receives comfortable and quality attention at every stage of their health journey.
---
Whether you are looking for a primary care doctor or a pediatrician, or another medical specialist, SouthCoast Health has you covered with its wide range of world-class healthcare services, available throughout the Coastal Empire and Lowcountry. SouthCoast Health has 120 physicians and medical professionals in 18 locations in Savannah, Richmond Hill, Pooler, Rincon, Baxley, Hilton Head, Hinesville, and Statesboro. SouthCoast Health offers comprehensive medical services including: Family Medicine, Internal Medicine, Pediatrics, Allergy and Immunology, Cardiology, Endocrinology, Eye Care, Imaging, Infectious Diseases, Nephrology, Neurology, Physical Therapy, Podiatry, Sleep Medicine, Surgery, Clinical Trial Research Studies, Diabetic Self-Management Training Sessions, Dietetic Counseling, Laboratory Services, Massage Therapy, Optical Shop, Pharmacy, and Urgent Care.