What Is Chronic Kidney Disease? And How Do We Detect It?
Monday, March 13, 2023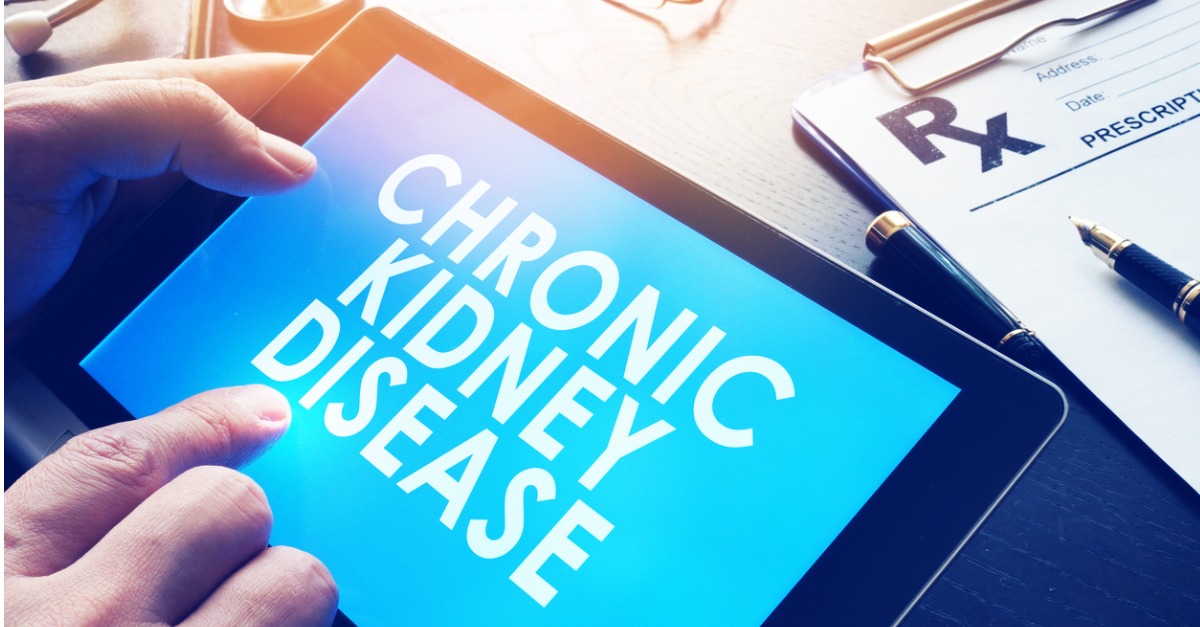 Our kidneys clean our blood, removing toxins from them and transforming waste into urine. Together, your two kidneys filter roughly 200 liters of fluid each day. So, when your kidneys aren't functioning properly, harmful toxins can accumulate within your body.
March is National Kidney Month and we're taking a closer look into one of the most common conditions that can affect the organ: chronic kidney disease.
What Is Chronic Kidney Disease?
Chronic kidney disease, or CKD, is a condition in which the kidneys are damaged and lose function over time. As a result, excess waste and fluid remain in the body instead of filtering out through your urine. This accumulation of waste can lead to a number of serious health issues, including heart disease, stroke, anemia, and increased risk of infection. People with CKD may also experience chemical imbalances within their blood, including low calcium levels, high potassium levels, and high phosphorus levels.
CKD can have varying levels of severity. Not all people with CKD will develop kidney failure, for which a kidney transplant or dialysis treatment is needed for survival. When CKD reaches this stage, it's also known as end-stage renal disease (ESRD). While CKD does tend to get progressively worse over time, treatments can slow progression.
How Is Chronic Kidney Disease Detected?
An estimated 37 million people in the U.S. are believed to have CKD, but those numbers may be larger, as it's also suspected that nine out of 10 people don't even know they have it. People with diabetes or high blood pressure are more likely to develop CKD, so these patient populations must be especially mindful of their risk.
Unfortunately, CKD can have few or even no symptoms in its earliest stages. As the condition progresses, the accumulation of waste in the body may lead to issues like nausea, vomiting, appetite changes, fatigue, sleep issues, changes in urination, muscle cramps, swelling of the feet and ankles, and dry skin. Even more frustratingly, these symptoms are nonspecific, meaning they can be attributed to many other conditions.
For these reasons, it's important that anyone who could be at risk of CKD checks in with their doctor regularly to discuss screenings. Your doctor may assess factors such as your personal and family health history to determine your risk for developing kidney disease, as well as any preexisting factors, such as high blood pressure or diabetes. If it's suspected that you could have CKD, they may order blood or urine tests to help form a diagnosis. In other cases, imaging tests such as ultrasounds may be performed to examine the size and structure of the kidneys.
While some types of CKD can be treated, the goal for treatment is often to manage contributing factors and alleviate symptoms. "For example," explains SouthCoast Health nephrologist, Dr. Nizar Eskandar, "for patients with diabetes or high blood pressure, the goal would be to control these conditions and prevent kidney-related complications that could arise from them." Doctors may also explore medications to relieve swelling or treat anemia caused by CKD. You may also be encouraged to adopt a low-protein diet, which could help minimize waste products in the blood.
Whether you're seeking top-notch chronic kidney disease management or you simply need a wellness partner for routine care, turn to SouthCoast Health. Our network brings together 120 leading medical professionals across 20 different specialties and services. Schedule an appointment online or by calling 912.691.3600.
---
Whether you are looking for a primary care doctor or a pediatrician, or another medical specialist, SouthCoast Health has you covered with its wide range of world-class healthcare services, available throughout the Coastal Empire and Lowcountry. SouthCoast Health has 120 physicians and medical professionals in 18 locations in Savannah, Richmond Hill, Pooler, Rincon, Baxley, Hilton Head, Hinesville, and Statesboro. SouthCoast Health offers comprehensive medical services including: Family Medicine, Internal Medicine, Pediatrics, Allergy and Asthma, Cardiology, Endocrinology, Eye Care, Imaging, Infectious Diseases, Nephrology, Neurology, Physical Therapy, Podiatry, Sleep Medicine, Surgery, Clinical Trial Research Studies, Diabetic Self-Management Training Sessions, Dietetic Counseling, Laboratory Services, Massage Therapy, Optical Shop, Pharmacy, and Urgent Care.