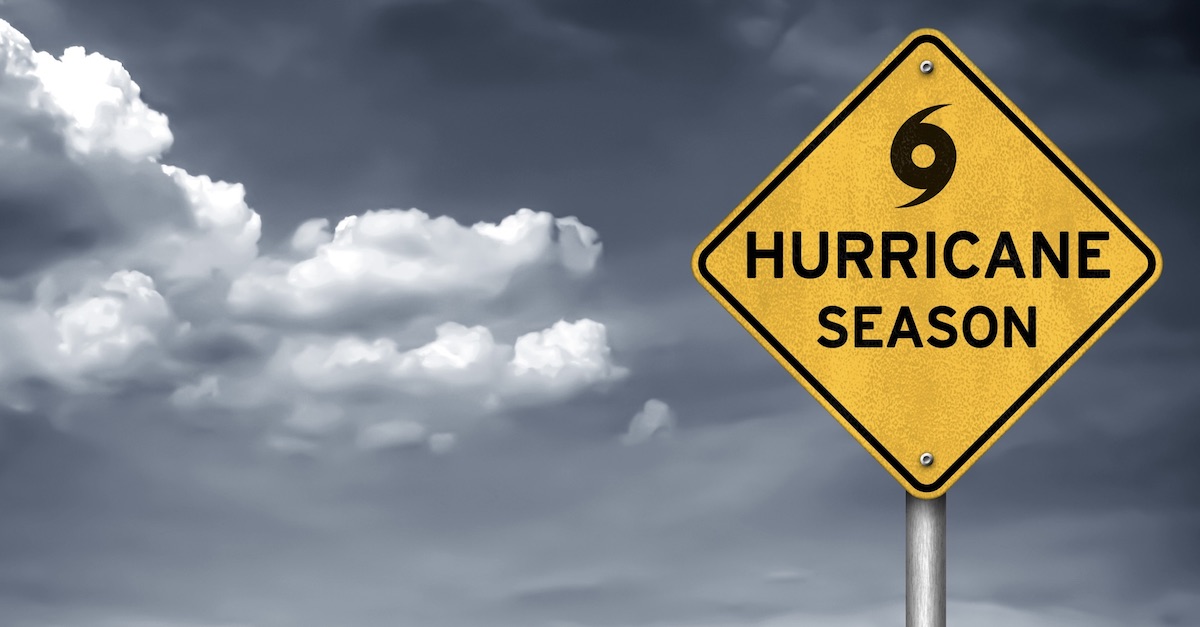 An impending hurricane is never good news, but it's a reality of coastal living for which we must be prepared. In the Atlantic, the official hurricane season spans from June 1st through November 30th.
While meteorologists can often predict these storms several days before anticipated landfall, it's best to begin preparations long before hurricanes are on the forecast. That way, you can avoid the health-impacting stress of crowds or empty store shelves. Here are some ways to stay prepared through the season.
Create an emergency supply kit.
Hurricanes can lead to power outages and store closings, and may make travel dangerous or impossible. You should therefore have enough supplies on hand at home to last through several days. This includes water, nonperishable and ready-to-eat foods, first aid supplies, and water.
It's recommended to keep one gallon of water per day, per person and pet on hand for at least a three-day period. You should also stock up on flashlights, batteries, fans, and backup chargers for your devices. If you have a generator, make sure you have enough fuel to run it for several days. You should also consider purchasing an emergency radio, as your cell phone's network coverage may be lost during a power outage.
Ensure essential prescriptions are filled.
While in the midst of emergency preparedness, don't overlook your need for an ample supply of necessary medicines on hand. Keep in mind that prescriptions sometimes take more than an hour or a day to fill, and check the quantities you have as soon as it appears a hurricane might even possibly come your way, to promptly ensure you will have enough medication for at least two weeks. In the event of a widespread power outage or extreme flooding, it may be difficult to find an open pharmacy or even reach your doctor.
While your medical provider or pharmacist should be your go-to for individualized advice on your medical emergency kit, start by considering the medicines you know you need every day. This includes things like blood pressure medications, insulin for diabetes, or drugs for managing HIV. Remember too that if anything needs to be refrigerated, you need to have a cooler with ice packs to keep them in.
Batten down the hatches.
Before a hurricane gets too close, give yourself ample time to clear your yard of any possible projectiles. Bring potted plants inside, put patio furniture and grills in a shed or garage, and secure any other outdoor items. If high winds are predicted, board up your windows to prevent shattering glass.
Know your options for evacuating or staying.
The decision of whether to go or stay can be difficult, especially since experts can't always predict a storm's potential impact until it's too late to flee. While it never hurts to evacuate, it's also a big decision to make — it could be a considerable expense and disrupt your normal routine, at the very least.
Many residents of coastal areas defer to the authorities when making this decision. No matter what you choose, consider factors such as the storm's category and anticipated impact, when roads will be shut down, and how much time you'd need to reach your intended destination while accounting for high traffic volume.
Get ready to go.
Hurricanes can increase in intensity shortly before making landfall. If one is forecasted, it's best to be safe and have measures in place to leave just in case. Make sure your car has a full tank of gas, and pack up your supplies for several days. Should you wind up having to depart even temporarily, gather only the essentials, shut off your electricity, gas, and water, and follow your designated evacuation route.
Stay put once the storm starts.
If you are not in a mandatory evacuation and you have decided to stay home, be ready to hunker down once the storm approaches your area. Keep your emergency supplies in an accessible location, stay indoors, and listen to the radio for storm updates. When the storm reaches its peak, consider moving everyone into an interior area of the home with no windows or doors, such as a closet.
If you're due for a doctor's visit to prevent lapses in medication refills, turn to SouthCoast Health. With an extensive network of more than 120 providers, we offer compassionate, comprehensive care for the whole family. Browse through our list of physicians online or schedule an appointment by calling 912.691.3600.