Your Yearly Mammogram: What to Expect
Wednesday, October 19, 2022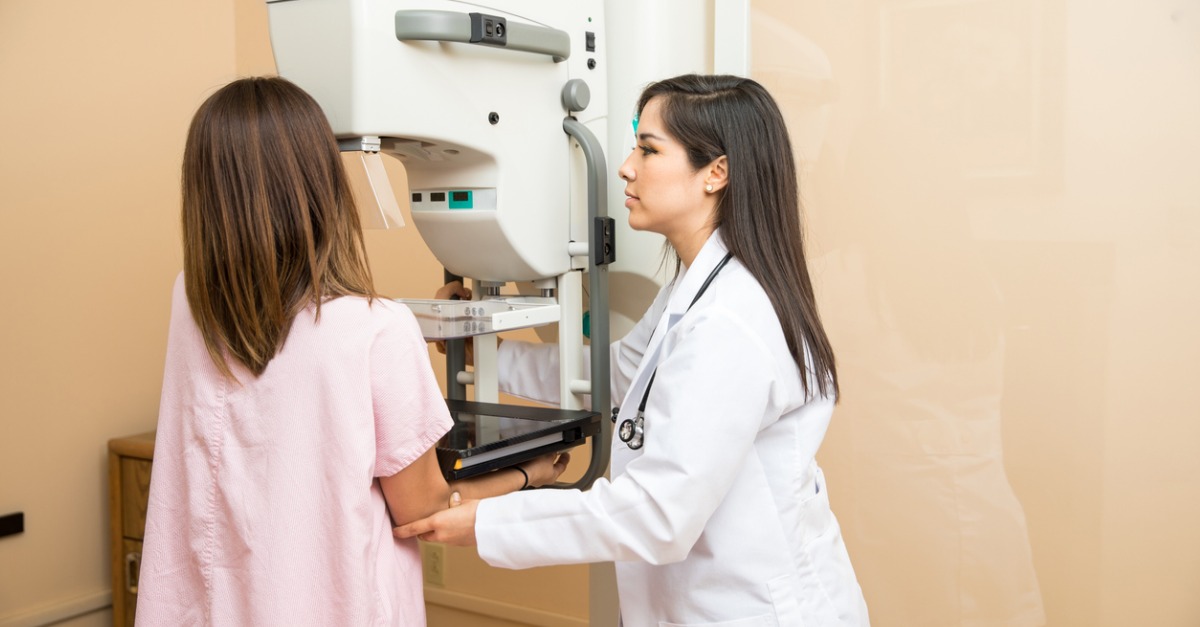 October is Breast Cancer Awareness Month, which means we're shining a special light on mammograms, especially to ease the uncertainty and anxiety of anyone going through one for the first time.
We understand that the mammogram process can be both an emotional stress and a logistical hassle, during which you may also feel exposed and vulnerable. The test itself can be physically uncomfortable, and may also be weighted with the worry of a breast cancer diagnosis.
Though most mammograms do not in fact result in such a diagnosis, they are still one of the best ways to detect breast cancer early, when it can be treated much more effectively (and therefore survived).
So here's our guide to fearlessly gliding through your mammogram — whether you're receiving one this month, or another time!
Mammogram Basics
In general, breast imaging involves a series of X rays of breast tissue to provide a closer look at any abnormalities that may lie beneath the skin. At SouthCoast Health, this kind of imaging and breast tomosynthesis is part of our expertise.
Many women get their first mammogram at 40, and then undergo screening annually. No two women are exactly alike, however, and you may need screening earlier in life. If you have a family history of breast cancer, talk to your doctor before your 40th birthday about whether a mammogram may be advised. And regardless of your age, if you notice any unusual lumps or bumps during a self-exam, bring them to your doctor's attention so that you can both assess whether further imaging is needed.
How to Move Smoothly Through a Mammogram
Once your mammogram is scheduled, follow these simple steps for an easy procedure.
Keep Your Underarms Au Natural
Though you may want to avoid sweaty armpits or body odor in your everyday life, many deodorants contain aluminum, which has the potential to alter mammogram results. So it's best to go without it during your appointment.
Avoid Scheduling During Your Period
Hormones are most stable a week after you finish your period, which means your breasts will be less sensitive during this time. If you have a good handle on the timing of your menstrual cycle, that can help you schedule the most comfortable mammogram.
Tips for a Quick Appointment
Routine screenings typically take about 15-30 minutes. Arrive in plenty of time to check in, and once your paperwork is complete, an attendant will direct you to change into a gown. You'll need to be unclothed from the neck to the waist, so wear a comfortable skirt or pants, and a top that's easy to get on and off.
Manage Your Fears
If you feel you could use some moral support, schedule your mammogram with a few friends, and then make plans to have lunch, pedicures, or a long walk together to take the stress off of the situation.
Results
Typically, results are shared a few days after your mammogram. If your screening is clear, you will be notified as to when to schedule your next mammogram. If a lump or mass is detected, your doctor will give you a call to request more imaging or a consultation.
Regular screenings are one of the best ways to combat cancer — especially breast cancer. Our experienced technicians will do everything possible to keep you comfortable. Schedule your next (or first!) mammogram with us by calling 912-691-4200.
---
Whether you are looking for a primary care doctor or a pediatrician, or another medical specialist, SouthCoast Health has you covered with its wide range of world-class healthcare services, available throughout the Coastal Empire and Lowcountry. SouthCoast Health has 120 physicians and medical professionals in 18 locations in Savannah, Richmond Hill, Pooler, Rincon, Baxley, Hilton Head, Hinesville, and Statesboro. SouthCoast Health offers comprehensive medical services including: Family Medicine, Internal Medicine, Pediatrics, Allergy and Asthma, Cardiology, Endocrinology, Eye Care, Imaging, Infectious Diseases, Nephrology, Neurology, Physical Therapy, Podiatry, Sleep Medicine, Surgery, Clinical Trial Research Studies, Diabetic Self-Management Training Sessions, Dietetic Counseling, Laboratory Services, Massage Therapy, Optical Shop, Pharmacy, and Urgent Care.