Why Sitting is the New Smoking
Wednesday, July 5, 2023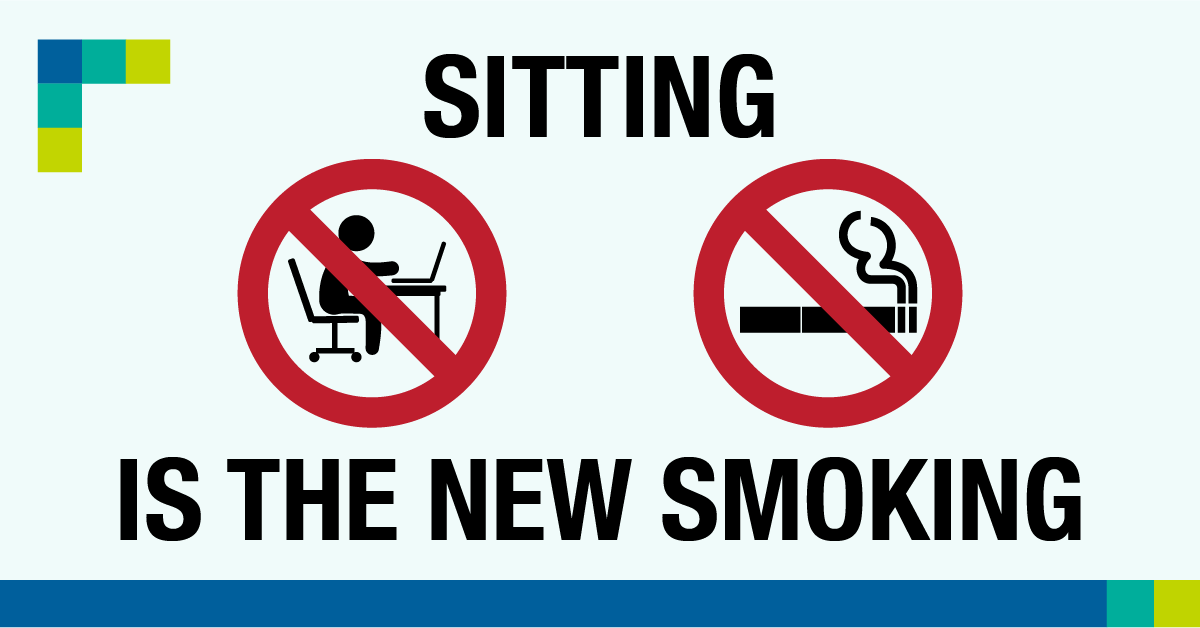 Medical experts have long warned about the dangers of smoking. From increased risk of certain cancers and chronic illnesses to immune system problems, smoking is regarded as one of the worst things you can do for your health. Fortunately, raising awareness about the risks of smoking has paid off: smoking declined from 20.9% in 2005 to 12.5% in 2021.
Now, however, there's a new health concern to consider. Recent research into the long-term effects of extended periods of sitting indicate the habit can have a serious impact on your body. Some experts are even saying that the health risks of extended sitting are similar to those of smoking. Here's why.
Sitting for too long increases chronic illness risk.
When you sit for extended periods of time, your overall blood flow slows down. This allows fatty acids to build up in your blood vessels, putting you at a greater risk for cardiovascular disease, as well as for serious medical events, including heart attack and stroke. In fact, people who sit for the longest stretches of time have an increased risk of death from any cause, compared to those who sit the least.
It takes a toll on the body in other ways.
Your body's structures, including your muscles and bones, won't be able to support you as well if you're using them less and sitting for extended periods. The slowed blood flow that comes with prolonged sitting can also increase your risk of developing blood clots. Moreover, it can cause the muscles in your hips to become too tight, lead to back issues, and even contribute to osteoporosis.
It can even increase cancer risk.
Medical researchers still have yet to understand the reasoning behind the link, but long periods sitting have been found to increase cancer risk. Specifically, people who sit for long periods are more likely to develop lung, uterine, and colon cancers.
Excess sitting can affect your mental health, too.
Physical health and mental health are intrinsically linked, so it's no surprise that people who experience poor health from sitting too long may also experience mental health issues. For instance, studies show rates of depression and anxiety appear higher in people who spend more time sitting.
How to Minimize the Health Risks of Prolonged Sitting
Extended periods of sitting can be dangerous even if you're physically active during other times of the day. While being physically active can help offset some of the impact of sitting, and has many noteworthy health benefits, your goal should be to reduce sitting whenever possible. Here are a few tips to consider.
Take breaks from sitting every 30 minutes. Use a timer on your phone to remind you to get up.
Stand when possible throughout your work day. Walk with colleagues instead of having sit-down meetings.
Consider using a standing or treadmill desk.
Incorporate more activity into your daily routine. Take the stairs, park further away, and take an extra lap around the block when walking the dog.
As your partner in total wellness, SouthCoast Health is passionate about helping you take steps to promote preventive health. Whether you're due for a routine checkup or you have a specific health concern to discuss, you can browse through our compassionate providers to schedule an appointment here by calling 912-691-3600.
---
Whether you are looking for a primary care doctor or a pediatrician, or another medical specialist, SouthCoast Health has you covered with its wide range of world-class healthcare services, available throughout the Coastal Empire and Lowcountry. SouthCoast Health has 120 physicians and medical professionals in 18 locations in Savannah, Richmond Hill, Pooler, Rincon, Baxley, Hilton Head, Hinesville, and Statesboro. SouthCoast Health offers comprehensive medical services including: Family Medicine, Internal Medicine, Pediatrics, Allergy and Asthma, Cardiology, Endocrinology, Eye Care, Imaging, Infectious Diseases, Nephrology, Neurology, Physical Therapy, Podiatry, Sleep Medicine, Surgery, Clinical Trial Research Studies, Diabetic Self-Management Training Sessions, Dietetic Counseling, Laboratory Services, Massage Therapy, Optical Shop, Pharmacy, and Urgent Care.